Visualizing ideas is essential for a successful consulting process: pCon.planner 8.3.1 comes with new features which helps you to showcase your designs in ways that leave lasting impressions – even over long-distances.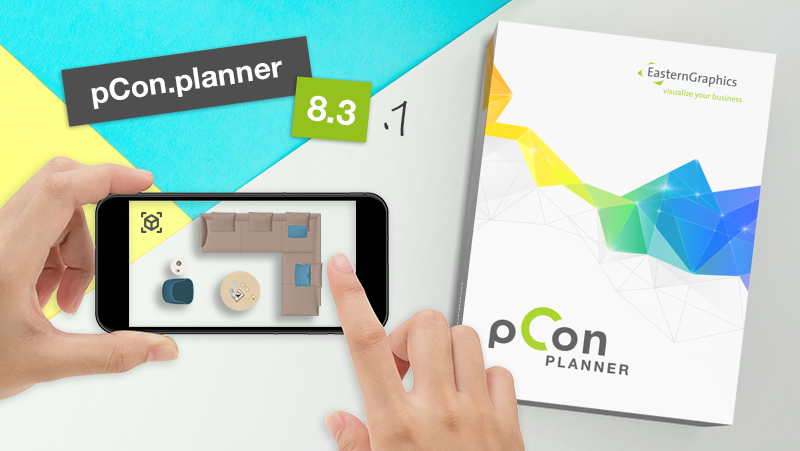 New Live View
With the new Live View in the pCon.planner you present your design in a separate, detached window that only shows your design without any gui elements, that might be a distraction – of cource you can also pull the separate Live View window onto a second monitor or use it for remote presentations.
The Live View is synchronized with the work area, however, the synchronization can be paused and restarted at any time. Thus, you can flexibly determine whether you only share start and end result or the entire editing process.
Export Formats for AR
Bring your designs from the PC to the smartphone and into the room: With the new export formats for augmented reality (USDZ for iOS, , you can experience furniture and furnishing proposals in real environments. Simply export the correct format, download it to your mobile and rediscover your interior plans. The export files can of course be sent to customers or linked in presentations.
Requirements: The mobile device must be AR-compatible, under Android you may need to install an AR viewer app.
Example for Android
Example for iOS
Get the Latest pCon News
With the new update, the latest news from the pCon Blog are displayed directly in the pCon.planner – data of new manufacturers in the pCon community, news in pCon applications, events or the occasional article on interior trends. Thanks to the new blog integration you will always be up to date on pCon news.
Find more information about features in this document.


*The download button is for the free standard version of pCon.planner. If you are a pCon.planner PRO or ME user, we ask that you wait to download the newest version until you receive the dialog prompt from pCon.planner informing you of an auto update.