In the last years, especially within the last months, the concept of working from home and the request to set up home offices became more and more important. But what does home office mean and how do you manage to set up this environment properly? The next lines will focus on these questions.
First of all: Opinions differ as to whether being able to work in your own home is a curse or a blessing. However, when it comes to setting up an office, the quality and functionality of the pieces of furniture are the most important factors. Since the workplace is located within your own four walls, personal taste is, of course, welcome! In the following section, you will find some tips on how to furnish your workplace at home. If you want to plan your office in advance, you will find a small, exemplary selection of products that are available as configurable data to the pCon Community for this purpose.
Giving your workplace its own space
The first question you need to answer before you can start working from home, is: Where do you want to set up your office? The most suitable solution is a separate room that can easily be locked after work is done. This way, looks and thoughts cannot turn to the desk during leisure time. But often this opportunity is not given. No problem as well! Because with cleverly arranged room dividers, bookcases, cabinets or even plants, your own workplace can also be easily separated from the living room or hallway. To give the "office" another visual separation, you can also paint parts of the wall or place a carpet.
How about these possibilities?

roomours GmbH; ASSMANN BÜROMÖBEL GMBH & CO. KG; Lintex
Put the workplace in the right light
When you look at lighting, you can say: The more the better! Whereas a lack of light can lead to headaches, concentration problems and depressive moods. Therefore, in addition to daylight, at least one powerful ceiling light is advisable. A desk lamp is recommended for particularly grey and gloomy days. But not only sufficient light plays a role here, also the color of the light is an important factor. Daylight white or neutral white are particularly suitable for this purpose. Furthermore, there should also be the possibility to darken the room. After all, who doesn't know that the sun's rays reflecting on the screen make it difficult to see much on the screen.
Here you can find different models: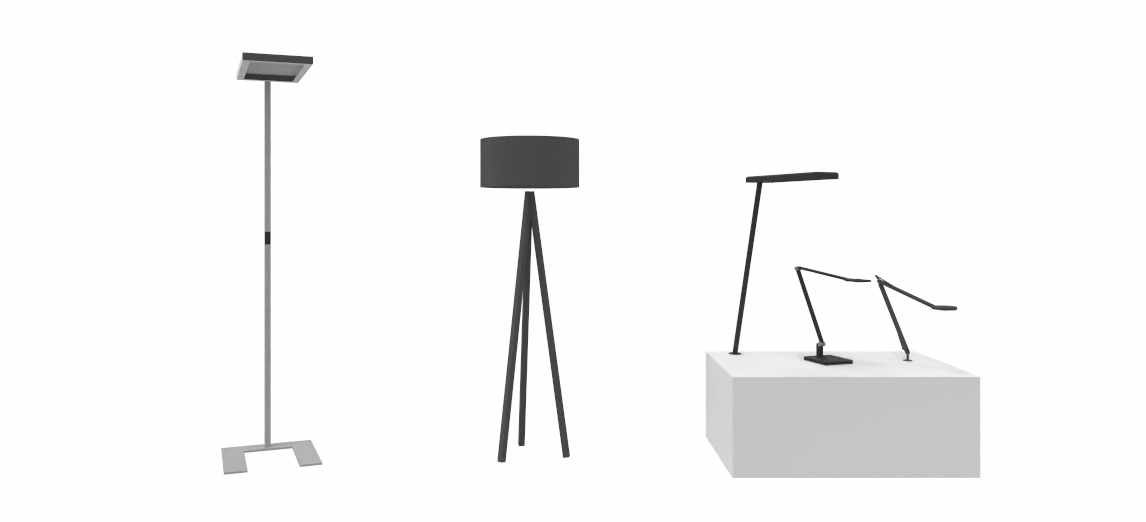 Herbert Waldmann GmbH & Co. KG; Herbert Waldmann GmbH & Co. KG; TOBIAS GRAU; Novus; TOBIAS GRAU
Comfortable sitting even when working from home

As soon as the premises have been clarified, you can start furnishing. Let's start with the right office chair. Ergonomics is key when it comes to selecting a chair, because this way, annoying back pain can be avoided. With the right chair you can even work comfortably at the kitchen table. Beforehand, you will need to inform yourself about the correct settings for seat height and upper body posture. These positions are individual and mainly depend on the height of the user. But not only the height of the desk chair is important for your own health, but also a comfortable screen height for a straight neck. Fortunately, there is a suitable office chair for every taste: from classic executive chairs to more on-trend and sleek models.
Here are some suggestions for you:

Fritz Hansen A/S; Interstuhl Büromöbel GmbH & Co. KG; Normann; Fritz Hansen A/S
Choosing the right desk
Another important piece of furniture in your home office is the optimal desk. The choice here is almost limitless, but there are still some aspects to keep in mind. Since the choice of workstation has already been made, it is now necessary to consider which desk size is suitable. When making this decision, both the space and the purpose should be considered. Depending on your profession, you will need a smaller or larger work surface with more or less utensils. In case you need more storage space, you can choose a desk with integrated drawers or with the possibility to stow a pedestal underneath. But even if there is not much space, there are a lot of small models. There is a great variety available in the most diverse designs – from simplistic modern to solid and rustic.
There is something for every taste.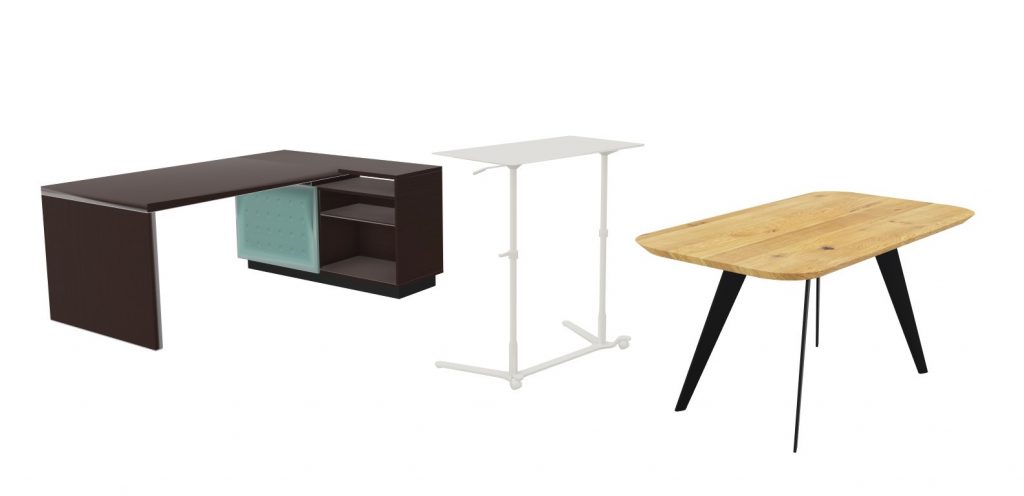 BALMA; Haworth; Trebord
A structured workplace is the be-all and end-all
If you already have a workstation, it would be advisable to sort it out again thoroughly. Because there is no better place to work than at a desk where everything is in place. However, to ensure that all documents and utensils find their place, there should be enough storage space. If there is sufficient room, book or wall shelves and storage boxes are the ideal solution. If this is not the case, mobile office pedestals are also suitable, which can stored underneath your desk. Small shelves on the wall or a filing system on the desk are also good options to provide extra storage.
In the following we have compiled some suggestions for office storage furniture: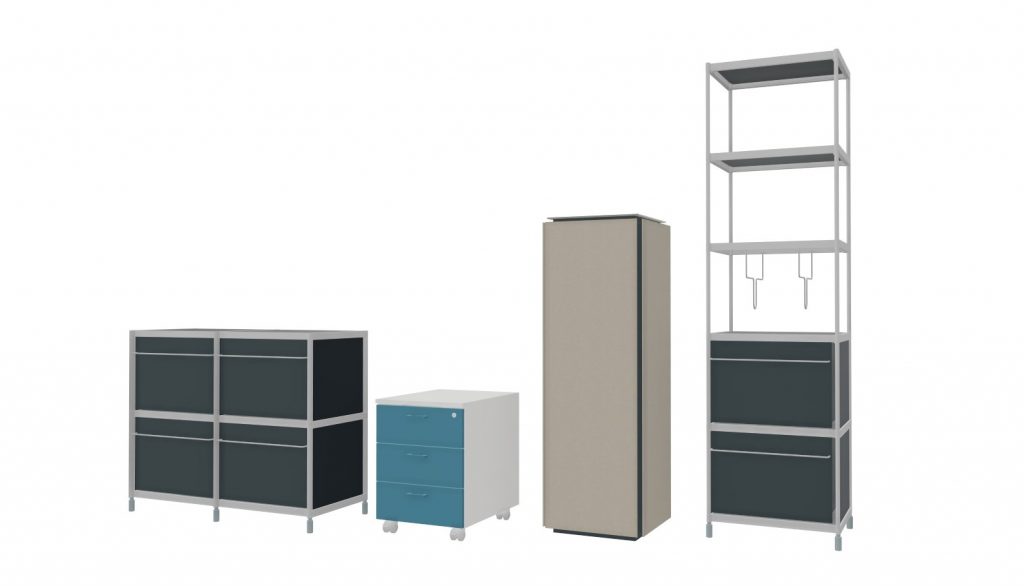 Alias Design; Las Mobili; Alias Design; Alias Design
Decoration: Less is more
To give your workplace an individual touch, personal photos, paintings or plants can be integrated into the office space. Individualization is necessary to feel good! Nevertheless, the rule here is: Less is more! Too much decoration distracts the eye and disturbs concentration. Tip: Find decoration that is also useful for your daily work.
Here you will find various alternatives to make your home office more personal: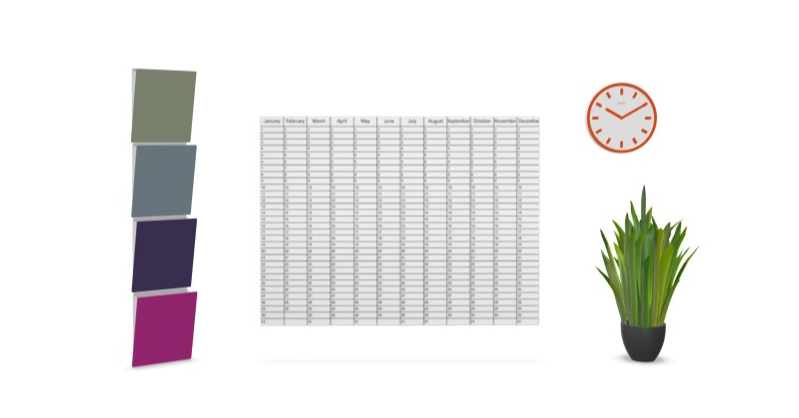 CHAT BOARD; CHAT BOARD; Magis; Götessons Industri AB
Do you want to change up or set up your home office? Our 3D interior design tool pCon.planner is a great place to start your design. Or would you like to see how your new favorite office chair fits into your space? Then you should take a look at the AR function in our app pCon.box.