Summer finally brings the beautiful weather and the desire to be outside! Especially, because this year many people had to move their summer holidays to their own four walls. Nevertheless your free weeks can be something special. So, let's get out of here, out in front of the door, into the fresh air. And what could be more suitable than a trip to your own balcony! If your balcony is rather monotonous and you are still looking for ideas to design of your open-air zone: We have looked around on the Internet and collected some inspirations – from Urban Gardening Paradise to a relaxed lounge corner, everything is there.
Green thumb
Urban Gardening – now planting is taking place everywhere. This trend aims to bring the garden into the city and onto your balcony. These small green biotopes not only improve the appearance of many concrete buildings but also the microclimate of the cities. The best time for planting starts in April/May. Many types of vegetables, herbs or berries do not need much space and can be easily planted in tubs or balcony boxes. Tomatoes, lettuce, lemongrass, strawberries – Do you can't make up your mind either? Fortunately, there are different ways of gardening sufficiently even on small balconies. Raised beds, Euro-pallets with plant boxes, hanging pots and tubs or vertical gardens are perfect for such green projects.
If you also want to harvest tomatoes from your balcony soon, or simply like to be surrounded by dense greenery, here are a few inspirations: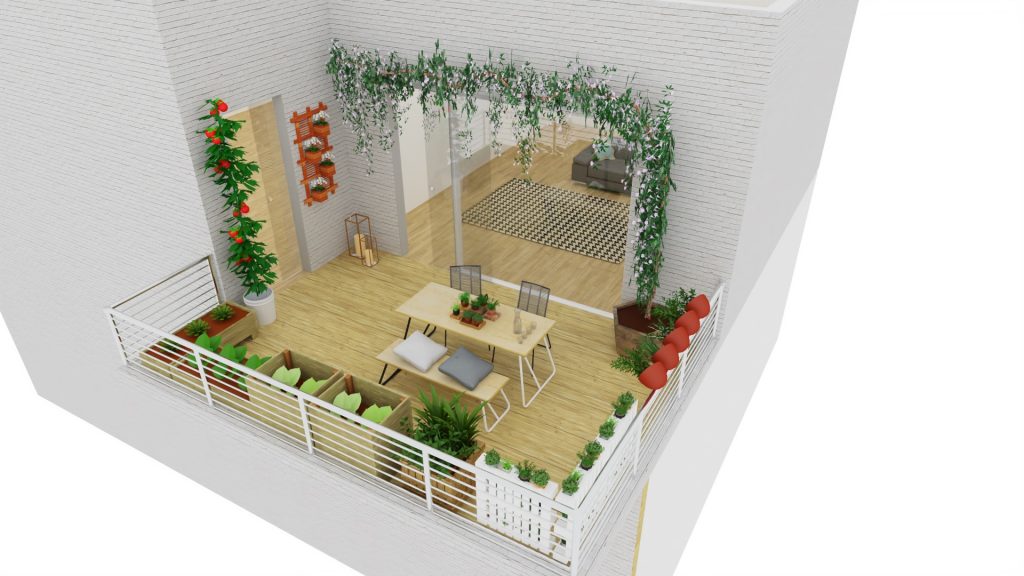 Archzine; Foxy Oxie; Fresh Ideen; Garten Fräulein; Apartment Therapy; Deavita; Elo7; Fresh Ideen
1001 Night
Bright colours make good mood :). True to this motto, your own balcony can be redesigned in no time at all. Products with an oriental touch or in boho style can be used especially well here. There is no limit to the colours – from colourful to earthy tones. Everything is possible! The interplay of warm and strong with cold, bold nuances makes your balcony look lively and powerful. However, those who would rather give their balcony a relaxed touch, prefer beige and earthy tones. But both styles have in common that with the right accessories a cosy atmosphere can be created. Cushions (many!), outdoor carpets, seat cushions or even boho-style poufs as well as small wooden tables decorated with candles and playful details can be used. Of course, plants should not be missing either! But not only colours can be mixed with each other, but also materials and shapes. This quickly creates an atmosphere like in 1001 nights.
The interplay of many colours at once ranges in effect from eclectically playful to oriental cosy. Maybe there is something for you?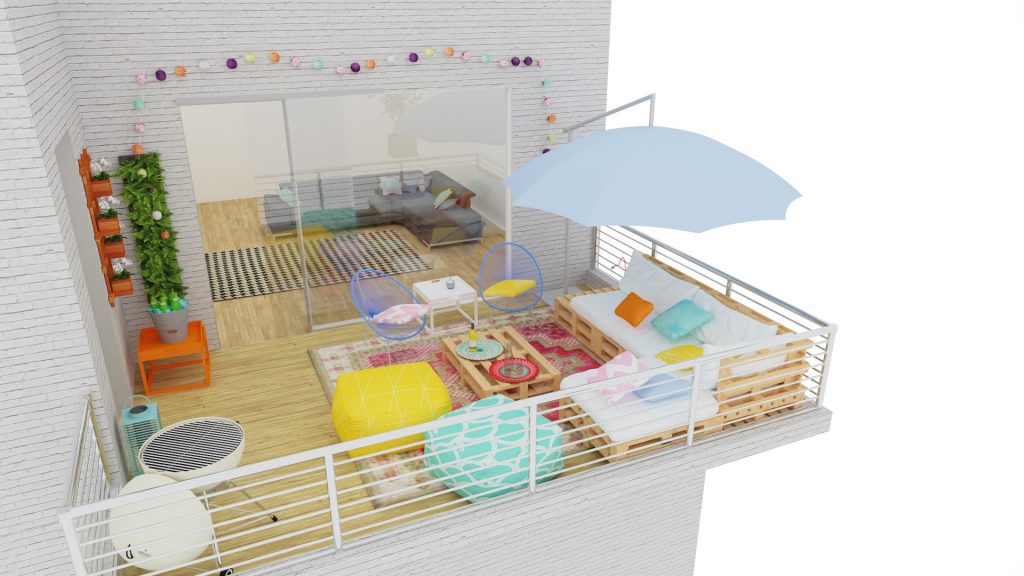 Ariyonainterior; Fresh Ideen; So leb ich; Fresh Ideen; Fresh Ideen; Ibizabohogirl; Sweet Home; Hunker
Relaxed oasis of calm
Warm summer days turn into balmy summer nights and as is well known, they sometimes become long. But balconies don't always have to be the new garden or a sea of colours. If you want to create an oasis of peace for relaxing with or without friends, it is best to use subtle colours and furniture made of natural materials. For those who like to invite friends for a cosy get-together, inexpensive DIY pallet furniture is suitable for this purpose – it not only looks cosy, with the right upholstered cushions it is! Plants can help to get into a comfy mood. Those who still don't want to do without colour can work with subtle shades of blue or green. Both shades are said to have a relaxing, calming and refreshing effect. The private atmosphere can be supplemented with a privacy screen, for example with long translucent fabrics – and if the wind is blowing lightly…
Does this association also give you a picture and a relaxed feeling? Let the day end quietly or deepen conversations with friends, this is definitely the place to do it: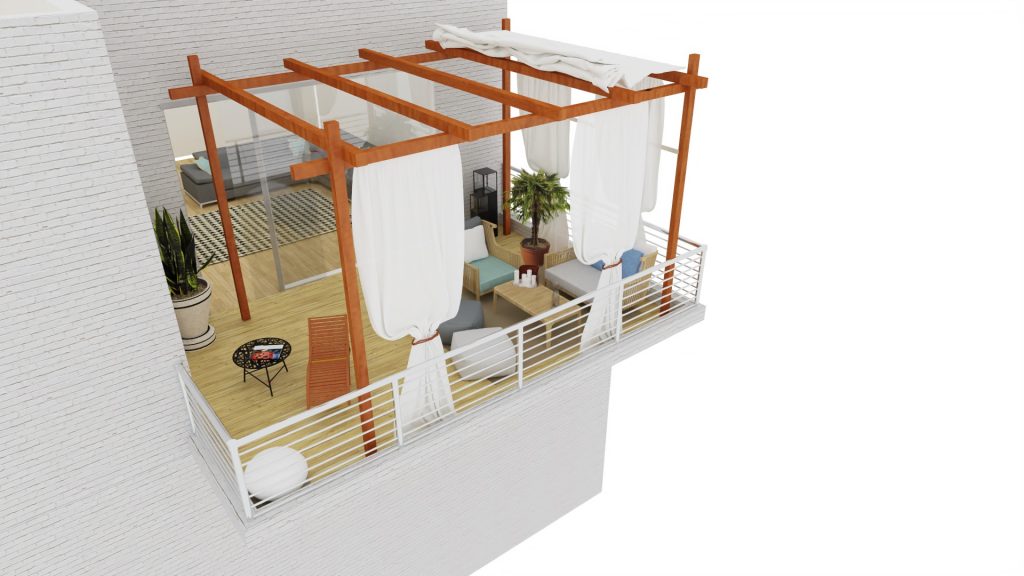 Royal Design Studio; gofeminin; Westwing now; Westwing now; So leb ich; Homes to love; Home Decor; Moje Wlasne 
In our pCon.catalog and the 3D Warehouse you will also find 3D models for outdoor furniture. Are you an interior professional? Then create a pCon account and apply for a pCon Community membership – this allows you to request configurable 3D data, including many additional product information and prices, from various furniture manufacturers.