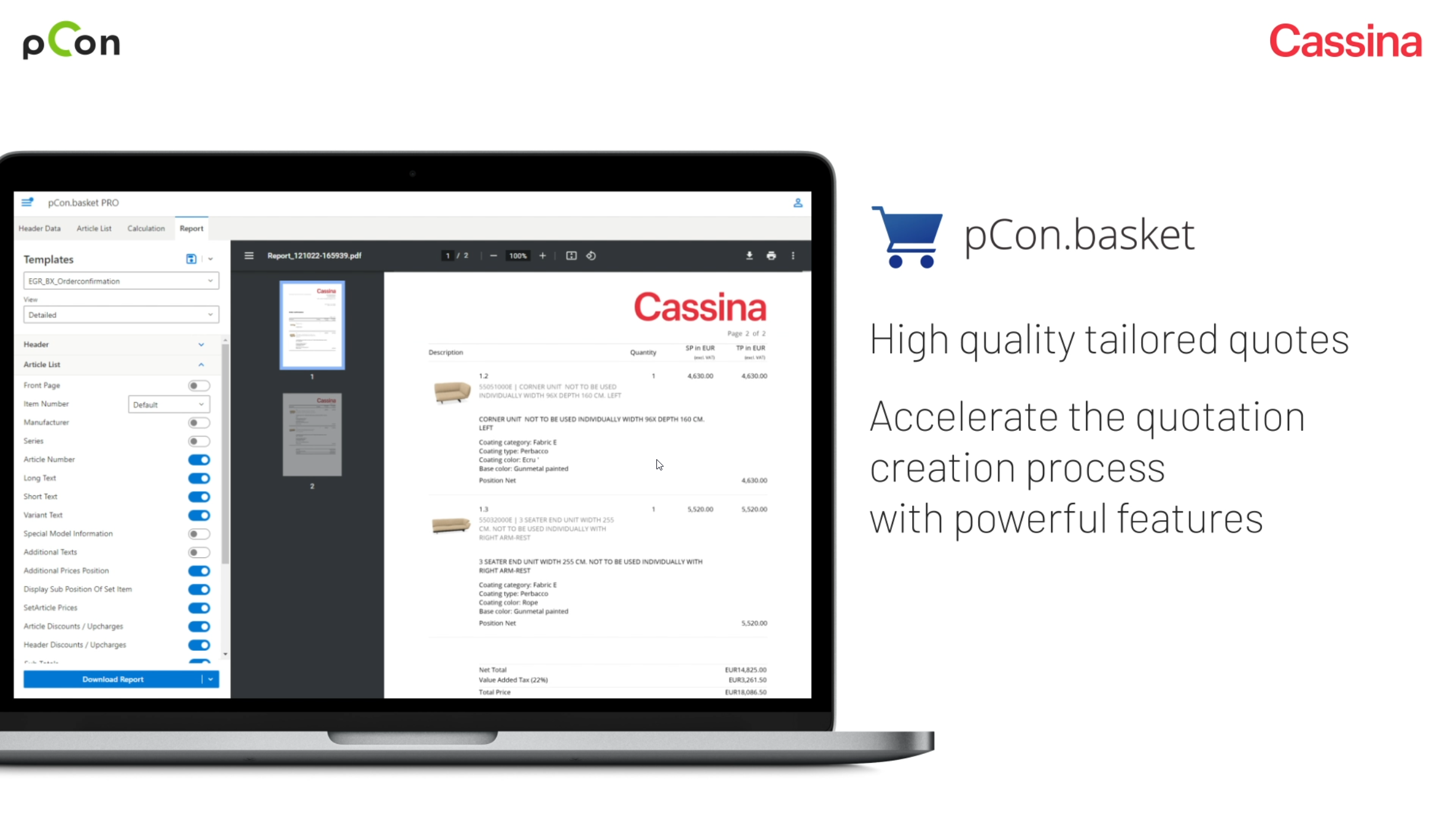 pCon Workshops for Cassina
Discover the pCon workshops organized for Cassina which will take place during Orgatec from October 25th to the 29th.
In Cologne, Cassina presents Cassina Pro, a professional, project-orientated and product certified collection, specifically studied for the hospitality sector and workplace. Cassina Pro expands its collection with five new projects – the Cab Office collection of chairs by Mario Bellini, the Banquette Mauritanie bench and Bureau Boomerang desk, both designed by Charlotte Perriand, the Cotone Slim bench by Ronan & Erwan Bouroullec and, lastly, the LC16 Bureau desk by Le Corbusier.
Established in 1927 by Cesare and Umberto Cassina in Meda, Italy, Cassina launched industrial design in Italy in the 1950s, based on a totally innovative approach that marked the transition from artisan production to mass production. With a mindset focused on research and innovation, Cassina combines technology and long-standing artisan craftsmanship.
The pCon workshops
We'll introduce new ideas and new ways of working for interior design professionals. We'll inspire and energize you with actionable take aways that will positively impact your organization.
Each workshop will take about 20 minutes and will be focused on a specific theme which allows to generate concreate take aways. It's a fantastic learning opportunity wrapped on a easy to digest format!
The four different workshops will rotate during the five days of the fair – the morning session will be at 10:00 and the afternoon one at 15:00.
The workshops will take place at the Cassina stand at Orgatec on Hall 10.2 Stand P010 N011. You'll have to register to participate, contact your Cassina contact or pass by the Cassina stand for more information on how to register.
(# 1) Untap efficiencies with Cassina's configurable data
Discover how Cassina's configurable product data can provide your interior design and sales teams the possibility to untap process efficiencies allowing your company to improve response times, reduce errors and increase overall project quality. Configurable data allows your organization to implement groundbreaking digital transformation processes.
We'll show you the most important steps and best practices in product configuration, including for modular products such as Mex Hi and Infinito.
Tuesday 25/10 at 10:00
Thursday 27/10 at 10:00
Saturday 29/10 at 10:00
(# 2) Power to the sales teams
The sales role requires constant movement and communication with customers, partners and the design team. Discover how to use Cassina product data on the go with pCon.facts to enhance your sales communication and to create high-level sales experiences.
pCon.facts is a powerful, yet simple to use, application for your smartphone or tablet. The app was developed to answer the specific needs of the sales teams – specify products, check prices, generate custom images, access documents, share personalized 3D geometries, amaze with augmented reality and much more.
Tuesday 25/10 at 15:00
Thursday 27/10 at 15:00
(#3) Create quick realistic renders
Generating realistic representations of your projects ensures complete customer comprehension and increases the emotional level, which improves the chances of successfully closing a sales opportunity. Creating high quality renders shouldn't take hours, break the budget and be accessible only to a few chosen ones.
Discover how with pCon.planner this process is much simpler, without compromising the quality. Discover the main tricks and best practices on how to create realistic still life and studio renders with Cassina's products. Make sure your team masters this crucial interior design skill!
Wednesday 26/10 at 10:00
Friday 28/10 at 10:00
(# 4) Improve your project communication with AR
Give customers a great experience, and they'll buy more, be more loyal and share their experience with friends and colleagues. Augmented reality (AR) has the power to make your customers feel special, valued and empowered. AR is the overlaying of digital models onto reality to create an augmented perception of the world.
Thanks to AR, freshly configured 3D models from Cassina can be realistically inserted into the customer's space. Integrate AR into your sales processes to deliver innovative shopping experiences and win over undecided customers. You'll learn best practices, the benefits of creating AR experiences and how to integrate them seamlessly into your instore, online and field sales business processes.
Wednesday 26/10 at 15:00
Friday 28/10 at 15:00
About Orgatec
As the leading international trade fair for the modern working world, ORGATEC has never been as relevant as it is today.
How can we create workplaces that are resilient and give individual freedom and structure equal space? What kind of environment makes it possible for ideas to grow? How can we structure the collaboration of individualists?
The trade fair features 750+ exhibitors from 40 countries that will share their future vision of work. Completing your experience and learning you can find 90+ events and lectures featuring top-class presentations, discussions on current trends, innovative materials and international best practice solutions.
About pCon
pCon is the leading space planning, graphical product configuration and quotation creation solution for the interior design business.
Central to the different pCon modules, is the manufacturer's configurable data, which allows the creation of very efficient work processes. The pCon community counts with configurable data from 500+ manufactuers from more than 20 countries, and tens of interior design related organizations from all over the world.
Discover more about the pCon community.