The latest release of the 3D room planning tool pCon.planner is available! With the update to pCon.planner 8.5 you will benefit from a more comfortable design experience due to adaptive real-time rendering. The render engine OSPRay is now the sole-star for creating photorealistic images in the 3D interior design tool. Users of the PRO edition will benefit from the new tool to create 2D vector images from any object. Furthermore, this update introduces the option to connect pCon.planner to your pCon account.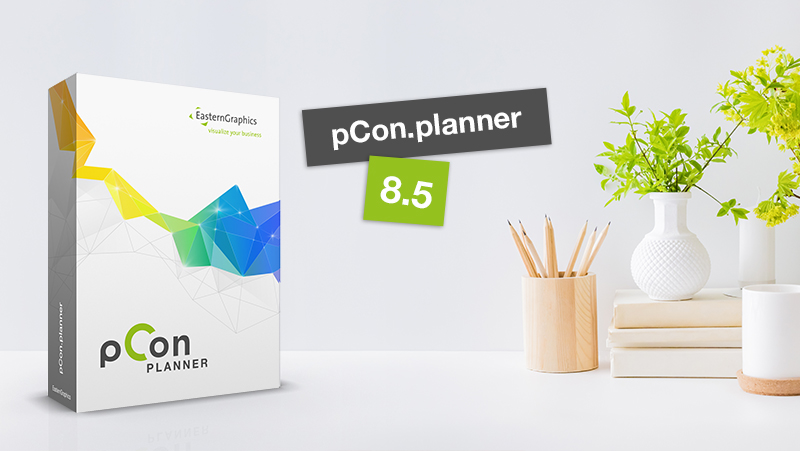 One Strong Render Engine
From now on we will fully concentrate on creating the best render experience for you with OSPRay – the one-and-only render engine in pCon.planner! In this update, you will find new options to create better renders faster.
2D Vector Images
The new 2D Projection tool allows you to create vectorized 2D views of objects you can either use for presentations in pCon.planner or to export them to your preferred layouting or design software. You can benefit from this new feature, when you are using the PRO version.
pCon.login Connection
Connecting pCon.planner and your pCon account will help you make better use of the Product Information features: Get additional content on certain products to always have the right information and ambient images at hand to enhance sales pitches and project presentations. It is also is an alternative way to utilize your pCon.planner license.
This is available for pCon.planner PRO and ME and when authorized via pCon community.
More new features:
Faster loading of large DWG files
Improvements for managing and sharing content
The arrangement tool now also displays the size of the base area
New image format: Multi Content Panorama (PRO)
Find out more about the new features in the Help Center.
Details about the new features will be available in the coming weeks here on the blog. Stay tuned and subscribe to never miss an update.

*The download button is for the free standard version of pCon.planner. If you are a pCon.planner PRO or ME user, we ask that you wait to download the newest version until you receive the dialog prompt from pCon.planner informing you of an auto update.