The latest release of the 3D room planning tool pCon.planner is available! pCon.planner 8.4 comes with new features that help you to let the light shine more realistically in your projects, with new options to individualize the way selections look and an overall modernized appearance, with new functions that will increase your work-efficiency, and an improved render experience due to a new OSPRay version.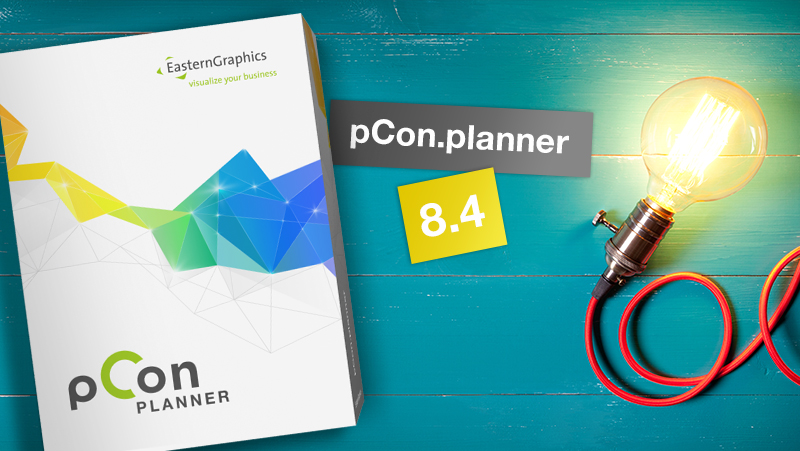 Modernized look and feel
Enjoy a more modern overall look of pCon.planner. The updated appearance of the room planner's selection and interactor leads to a new design experience. The new selection not only enables you to individualize the outline colors of your selection, selected objects also shine through walls and other elements that might block the direct view on them, that helps you keep an eye on even the smallest object.
More realistic lighting – support of Photometric Lights
Shine the right light on your design – or better yet – let the light shine correctly in your design: the new photometric light sources provide you with the possibility to add lighting that imitates a realistic distribution of light in your renders – their presentation in real-time render mode already gives you a pretty good anticipation base before starting the final render. You can access all the lighting options – the new ones as well as the ones you already knew – in the new Light menu. Additionally, you can import EULUMDAT and IES files now.
More beautiful renders – improved OSPRay
Benefit from the improvements of the integrated OSPRay render engine: improved denoiser, better CPU utilization and the support of refraction of light on transparent materials.
More new features:
Advanced export dialog for DWG files
New Microsoft Excel Export for article data (PRO and ME)
New STEP and IGES import (PRO)
Filter article lists and exports by manufacturer (PRO)
New options in the Layout area (PRO)
New possibilities to work with Multi Content Pictures in impress
Find out more about the new features in the Help Center.
Details about the new features will be available in the coming weeks, here on the blog. Stay tuned and subscribe to never miss an update.

*The download button is for the free standard version of pCon.planner. If you are a pCon.planner PRO or ME user, we ask that you wait to download the newest version until you receive the dialog prompt from pCon.planner informing you of an auto update.