The online CPQ software pCon.basket PRO and pCon.basket CE, the free community tool for creating article lists online, and the version for integration have received an update.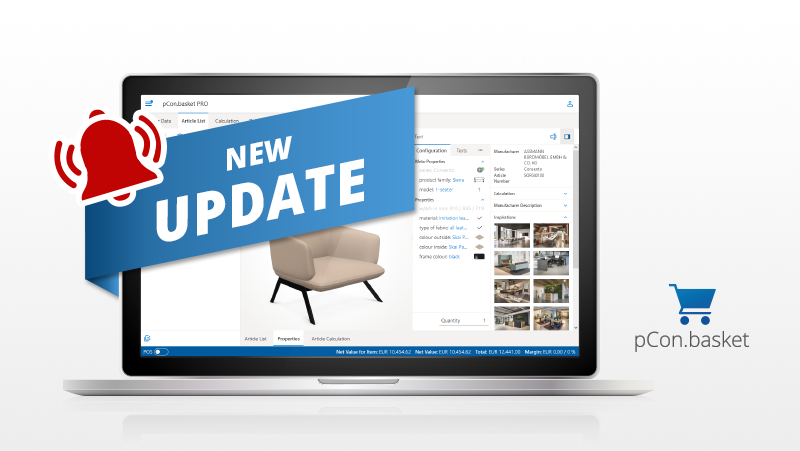 That's new
Process efficiency: Copy articles from pCon.planner to pCon.basket (PRO, CE, Integration)
You can now simply import selected articles from pCon.planner (from 8.8) to pCon.basket by means of the Copy > Article List command (CTRL + B) in the 3D room planner. The copied articles can be inserted to an article list in pCon.basket by pasting them, using CTRL + V).
Overview in your reports: New options for views (PRO, CE, Integration)
With the new version of pCon.basket, additional options for the presentation of article lists are available, allowing you to choose from 5 different views to control the level of detail in which article lists will be displayed on reports. Alongside the already implemented Summarized and Detailed view, you can now also select the following:
Compact view, which will display all articles within a group or compound article as one position. Information on the sub-articles is displayed in text form.
In addition to the behavior of the compact view, identical items that exist more than once are grouped together when you choose the new Summarized – Compact view. Folder hierarchies are taken into account.
With the Flat List, all identical articles in your project are summarized, without taking into account folders or other hierarchical elements.
Enhanced Help Resources (PRO, CE, Integration)
To help you get the most out of pCon.basket, you have access to a comprehensive online help via the Help section in the sandwich menu or with F1. There you will find up-to date help articles and videos, that will be updated constantly – it is worth a look.
Usability
Autocomplete Function when inserting articles by number (PRO, CE, Integration)
With the new version of pCon.basket, you will profit from the Autocomplete Function when inserting new articles. With Shift+F6 or click on the respective icon in the upper right corner, you open the dialog to directly insert articles. Now, when start typing, you will get up to 10 suggestions based on the characters you have entered, making for a more streamlined and quick order-creation process.
Default Validity Time for quotes (PRO, Integration)
When using pCon.basket PRO or an integration version, you can now define a Default Validity Time for your quotes in the settings. When opening a new project, this will automatically set the validity date for the quote, helping you in the communication process with your clients.
Other new features
Support of new OAP Interactions "Info" and "Warning"
Rounding factor in the header calculation (PRO, CE, Integration)
Long Texts for Folders and Text Positions (PRO, Integration)
Support of Price Date in pCon.basket CE
Interested in using pCon.basket?
pCon.basket PRO and CE work with your  pCon account. Take a look at  pCon-solutions.com/basket for more information and to test pCon.basket PRO for 30 days free of charge.
Subscribe to the pCon blog (in the footer) to be notified by e-mail about news about the pCon.basket, other pCon applications, and the pCon community.