Give customers a great experience, and they'll buy more, be more loyal and share their experience with friends and colleagues. Augmented reality has the power to make your customers feel special, valued and empowered.
Augmented Reality (AR) is the overlaying of digital models onto reality to create an augmented perception of the world. Thanks to AR, freshly configured 3D models of products can be realistically inserted into the customer's space. The floor is detected, and the models are automatically scaled and positioned.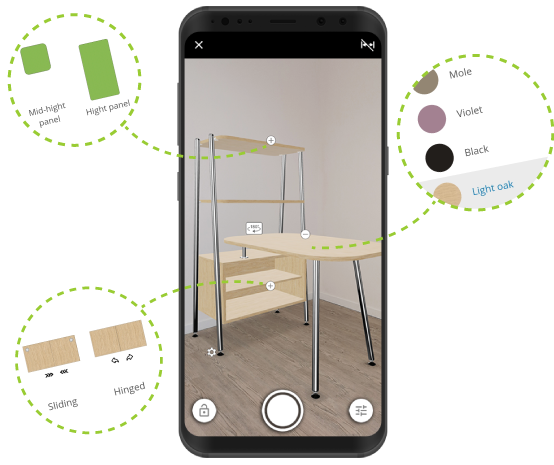 Integrate AR into your sales processes to deliver innovative shopping experiences and win over undecided customers. It provides an added layer of interaction enabling customers to experiment with the proposed furniture solution. It improves the purchase experience since clients want to preview the product features before purchasing – colors, models and accessories.
AR functionality has been carefully integrated into several pCon applications, allowing your team to provide exceptional personalized customer experiences instore, online or in the field. No matter what sales channels you're using, AR product visualization with pCon allows you to generate sales anywhere.
In this webinar you'll learn best practices, the benefits of creating AR experiences and how to integrate them seamlessly into your instore, online and field sales business processes. It will be an exciting webinar that will give you a lot of ideas!
December 9th
09:00 New York | 15:00 Roma | 17:00 Dubai | 21:00 Kuala Lumpur