The online CPQ software pCon.basket PRO and pCon.basket CE, the free community tool for creating article lists online, have received an update.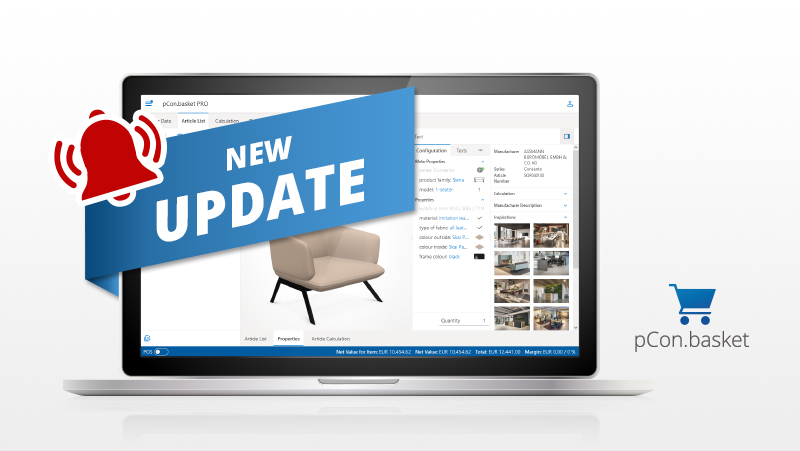 For pCon.basket PRO and CE users
Additional images per article list position
Showing a product in different contexts and atmospheres can help seal the deal. With the new version of pCon.basket you have the opportunity to enhance reports with supplementary pictures from your local storage or with resources provided by the manufacturer within pCon.basket.
Further improvements
Avoid pricy surprises with the clear display of surcharges in the properties dialog at the corresponding value (given the manufacturer maintains this information). The improved search helps you find the right article more quickly.
For pCon.basket PRO users
Individual reports
The newest release of pCon.basket PRO makes it even more convenient to use reports that are tailored to your company and customers. Besides the standardized report available in pCon.basket PRO, you can also access report templates that are created especially for your pCon.login organization.
As pCon.basket PRO user, you will also enjoy the features for sizing article images on reports and the new option to display folder pictures.
Streamlined workflow
Small changes can have a significant impact: the new option to only export selected articles to obx enriches the default obx export to facilitate working on large-scale projects with a multitude of different manufactures.
With the new shortcuts for creating folders (f3), creating manual articles (f4), and creating new text positions (f5) you navigate through your projects more efficiently.
Interested in using pCon.basket?
pCon.basket PRO and CE work with your pCon account. Take a look at pCon-solutions.com/basket for more information and to test pCon.basket PRO for 30 days free of charge.
Subscribe to the pCon blog (in the footer) to be notified by e-mail about news about the pCon.basket, other pCon applications and the pCon community.