The online CPQ software pCon.basket PRO and pCon.basket CE, the free community tool for creating article lists online, have received an update.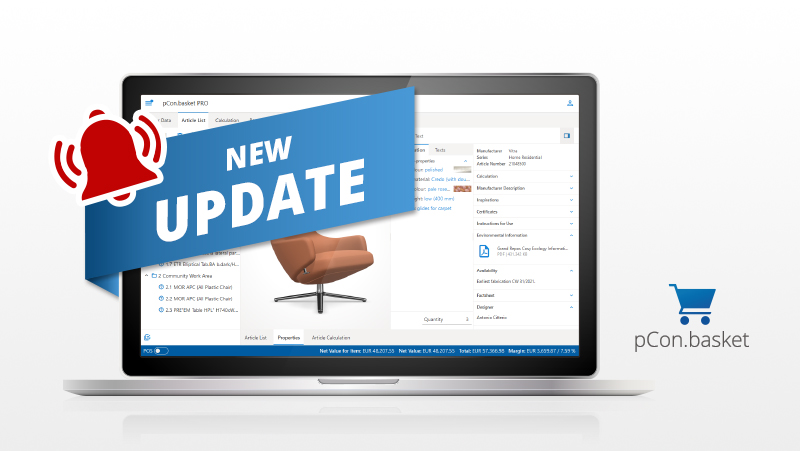 For pCon.basket PRO users
Set pricing date
The new version of the CPQ tool makes it even more convenient to create quotations thanks to the option of setting the price date so that you can work with different price lists – either at header level for the entire project or for the individual configuration at article level.
Transparent text handling
The new organization of the properties dialog provides a better overview when editing article configurations and article texts: Transparently separated into individual tabs, you can now focus on either the configuration properties or the textual description of the article.
A small adjustment with a big effect: the new highlighting of articles with filled special model text makes it clear at a glance that articles must be treated separately in the ordering process. This ensures more efficient quotation processing, error prevention and, last but not least, increased customer satisfaction.
For pCon.basket PRO and CE users
Extensive support documentation in all languages
pCon.basket PRO and CE can be used online and collaboratively – even for teams in different countries. With this update, we have not only added new translations, we have also added an extensive help platform to the online tool, in all application languages. So that all country teams can quickly help themselves if they have any questions.
Preset camera views
Finding the right perspective is not always easy. In the new pCon.basket, you can therefore conveniently choose from preset 2D views in the article view. Of course, the proven 360° view is still available.
pCon.basket PRO and CE work with your pCon account. Take a look at pCon-solutions.com/basket for more information and to test pCon.basket PRO for 30 days.
Subscribe to the pCon blog (in the footer) to be notified by e-mail about news about the pCon.basket, other pCon applications and the pCon community.