Many manufacturers provide high-quality product images on their websites or in PIM systems. These can now not only be inserted in the pCon.planner, but also edited. This enables planners and interior designers to create coherent presentations even faster without having to access an external tool.
The new dynamic tab "Image" opens immediately after the import and the subsequent selection of an image. Here you can find functions for rotating, flipping and cropping inserted images so that you can define the desired image section and orientation with just a few clicks in both the planning and layout area.

Der neue dynamische Reiter "Bild", der sich bei der Bildselektion öffnet.
The pCon.planner 8.2 has another ace up its sleeve: the "Image Editor", which you open by clicking on "Edit". With it you can creatively combine filters for exposure, contrast, highlights, saturation and much more. In the layout area of pCon.planner PRO you can even apply these settings to the viewports of your planning!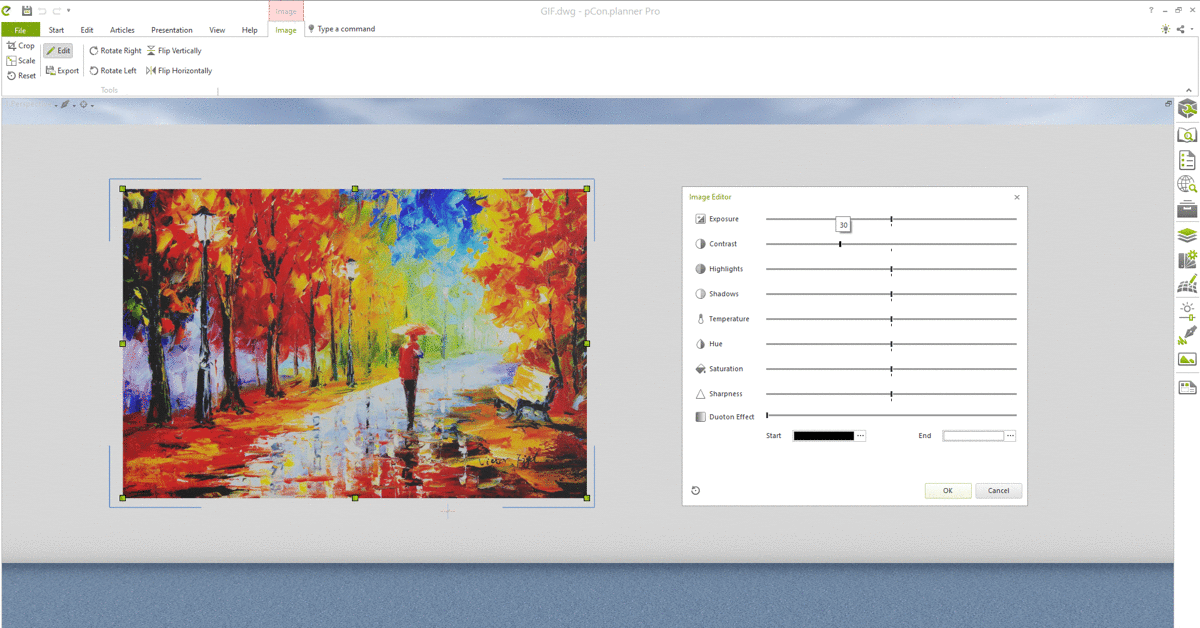 In the new "Image Editor" you give images, viewports and materials a new appearance.
Have you always wanted to adjust the hue and saturation of a material directly while planning in pCon.planner? All operations of the image editor are also available for textures in the material editor. Simply click on the small pencil next to the texture and give your materials the final touch.
Do you want to test the new image processing tools yourself and let images and textures shine in new splendour? Download the current pCon.planner version below. An overview of all new features can be found in our online help.

*The download button is for the free standard version of pCon.planner. If you are a pCon.planner PRO or ME user, we ask that you wait to download the newest version until you receive the dialog prompt from pCon.planner informing you of an auto update.