The unique design furniture collection of Extremis provides architects and project designers with tools to bring people together and stimulate conversation. From now on a selection of their picnic tables, parasols and space dividers is available in the pCon.planner product library.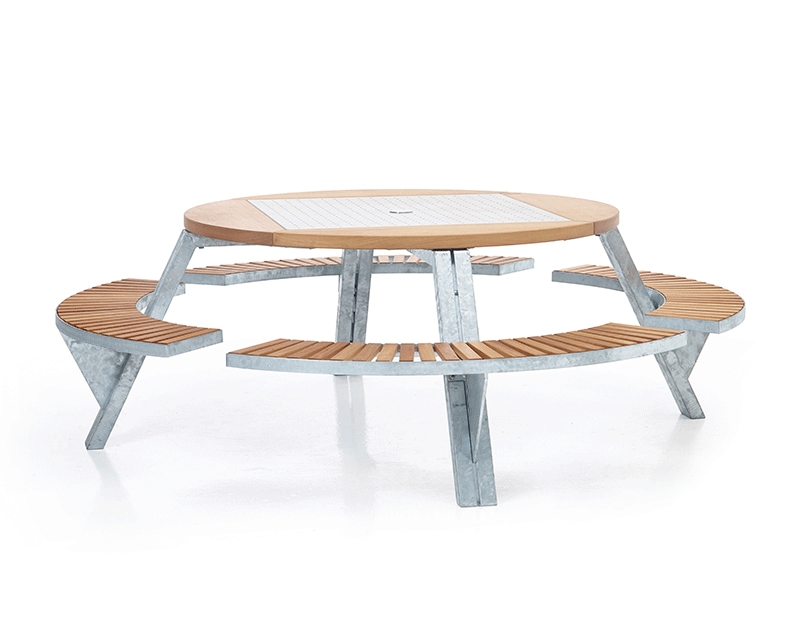 Founded by Dirk Wynants in 1994, Extremis is on a mission to combine intelligent design based on Flemish common sense with a famous Burgundian lifestyle. With headquarters and manufacturing in Poperinge, Belgium, the company's design ethos is derived from a Shaker quote: "Don't make anything, unless it is both necessary and useful… and if it is, don't hesitate to make it beautiful." With that in mind, Extremis began making furniture suited for the outdoors and indoors in completely non-standard ways.
In the past 25 years, Extremis has developed an international reputation with award-winning designs such as Gargantua, Hopper and Picnik. Their products can be found in small city gardens, gigantic luxury hotels and office buildings, but also in hospital cafeterias and school buildings. They are "Tools for Togetherness"; furniture that brings people together and that improves the quality of life; with a strong focus on intelligent problem solving and sustainability.
Extremis products in pCon (for now):
Gargantua
Hopper
Anker
Pantagruel
Sticks
Marina
Inumbra
Inumbrina
Are you looking for iconic picnic tables and unique parasols that will take your project to the next level? Request the data now via pCon.login.
Extremis pCon tutorial from Extremis on Vimeo.