Smart Presentation for Consultation-intensive Products. With the pCon.box, you can design the perfect room solution for your customers as well as have additional production information on hand directly at the point of sale. With AR technology, 3D interactions such as zooming in on details and live configuration of objects you create lasting customer experiences.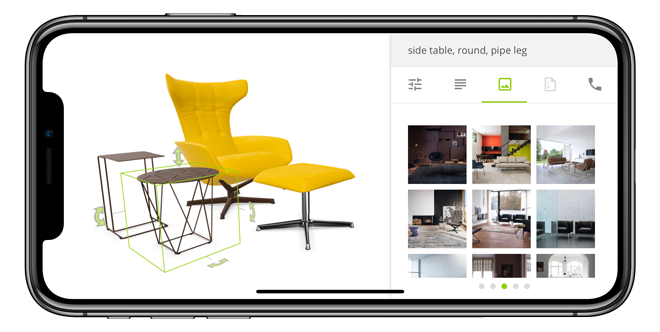 The new version of the sales app is now available. And these are the most important new features at a glance:
Faster in the catalog, faster in the conversation.
Open the app, get started right away – the new workflow leads you directly to the planning area, only one click away from your catalogs. Access your saved projects via the hamburger menu.
Access detailed product information comfortably.
Context-sensitive tools provide the information you need, when you need it: Simply select an article and all product information are available at your fingertips.
New interaction concepts for an approved standard.
With the support of the newest OAP version (OFML Aided Planning), interactive configuration of complex products on your smartphone or tablet becomes a visual highlight in every consulting session.
Recently used, first accessed.
The more compact catalog view with an overview of recently used manufacturers saves time searching and scrolling for favorite brands.
Navigate smarter.
Intuitive swipe gestures (Swipe) let you navigate smarter through catalog and product information
A lot to share?
pCon.box now allows you to send several documents in one email.
More impressive presentations.
The improved AR mode ensures stability and makes virtual furnishing even more enjoyable – for the small wow moment
in great conversations.
Click here to download the latest version of pCon.box: