No more noise in renderings? Yes, you read it right! Creating high-quality renderings is the supreme discipline of 3D planning. That's why pCon.planner 8.1 comes with a powerful Denoiser that turns your pictures intro true works of art faster and easier. So that you can concentrate on the essentials: plan creatively!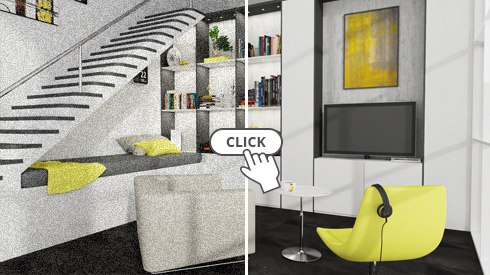 On the left you can see the image without any changes and on the right side with Denoiser.
To realize the improvements we rely on Intel's open source denoising solution OIDN (Open Image DeNoiser). But why do you need a denoiser in a software like pCon.planner? In the case of synthetically generated images, "noise" is the result of the rendering method used. The OIDN filters out the so-called Monte Carlo Noise and reduces the number of samples required per pixel. This leads to a significantly shorter rendering time.
In close cooperation with our partners from Intel, we optimized the Denoiser for renderings created in pCon.planner. A scene was calculated until no more noise was visible. Then a second picture of this scene was taken, which was calculated only briefly and had a lot of noise. After that, a neural network could be trained that compared the two images and identified the details on the noisy picture that should be seen in the finished image. The result was a filter specifically for OSPRay generated content in pCon.planner.
Denoising in the rendering dialog
By default, noise reduction is activated in the rendering dialog of pCon.planner 8.1. This allows you to stop the calculation earlier. As a post-processing tool, the filter is much faster and more efficient because it requires less processing time then running the rendering. Alternatively, you can disable it and switch it back on after the calculation process to compare the results.
Convinced? Then try the Denoiser and see with your own eyes what this new feature will do to your renderings! Download the pCon.planner 8.1 with all new features today.

*The download button is for the free standard version of pCon.planner. If you are a pCon.planner PRO or ME user, we ask that you wait to download the newest version until you receive the dialog prompt from pCon.planner informing you of an auto update.