Impress customers, secure orders – How so? With the right service, of course! The idea that planning service, too, is a selling point is no secret. Which means, it's all about scoring points with fast processing and impressive design presentation. Support in this area is exactly where pCon.planner comes in, and with the newest version, it will be even stronger.

Work better together with IFC. The fact that IFC files can be imported into pCon.planner isn't a new concept: the files can be easily loaded in pCon.planner, ensuring an efficient flow of information between the architect and the room planner. In the next release, however, the import gets even better.
This fall, we're also introducing the IFC export. The trick: Within the exported IFC files, OFML information will be stored, meaning corresponding article information will be available in the receiving program as well. This allows for an even more efficient cooperation in terms of construction, furnishing and management – reflecting the spirit of BIM and OFML.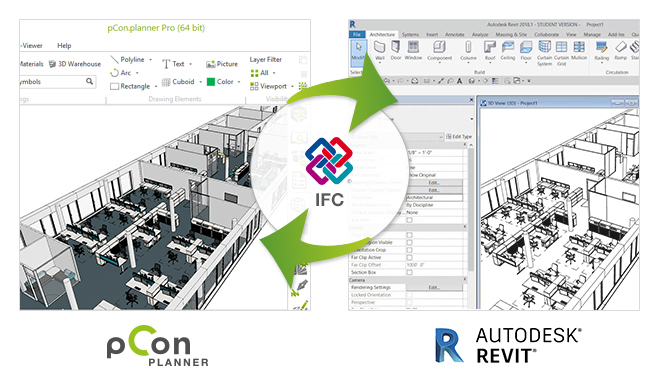 IFC export from pCon.planner into Revit®: In the next big pCon.planner release, the article information stored in the OFML data system can also be retrieved in typical "BIM software".
Simply more beautiful. In addition to efficiency, a planning program also requires high image quality. After all, professionally planned furnishing solutions deserve attractive (re)presentation. In the next planner release, you'll see improvements in visual enhancement in several different ways. You'll see visual highlights even during real-time rendering. The render styles also benefit here and will be fit with several new display options.
Sounds exciting? This fall you can try the new pCon.planner out yourself!