My home country, Indonesia, is remarkably known to be the world's fourth most populous nation, with over 300 native ethnic groups and more than 742 languages and dialects spoken. Being born and raised in Jakarta, the country's capital city, I was fortunate enough to be exposed to multicultural surroundings and diversity at such an early age.
Also, having both of my parents work in various corporations while I was growing up gave me the opportunity to see their offices and observed how it evolved throughout the years. That was how my fondness for interior design started.
The fact that I have been living in Germany for the past three years, and now working in EasternGraphics (in which has brought me even closer to the office furniture industry

) , it did not stop me, in fact, it has increased my interest in office interior designs back in my own country. At times, I would like to compare how office designs look like both in Germany and Indonesia – for the sake of fun

Let's head our focus on Indonesia, shall we? So, back in the days, wooden (most of them, highly and beautifully crafted!) and hefty furniture dominated the office space. Plain white walls around cubicles and single room workspaces with plain white walls were also commonly found.
Today, most businesses in Indonesia generally tend to prefer Scandinavian-style designs that are known to be sleek and sophisticated (also, mostly thought to be cost-friendly

), in order to keep up with current trends worldwide, rather than withstanding or incorporating its own local design elements.
However, two Indonesian branches of giant companies such as Google and Facebook made sure that its office interiors are surrounded by Indonesian ethnic patterns and items. For instance, visuals depicting culture of Indonesia can be found in both of these offices. Moreover, artworks created by local artists are highlighted around the interiors.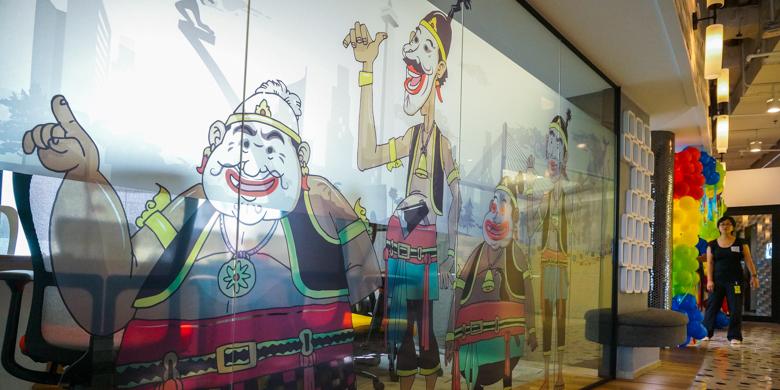 Another example of keeping local appearances can be seen from BBDO, one of the world's biggest advertising agencies who reinvented its Jakarta office with warm, neutral elements alongside wooden accents spread through the office area. It is worth mentioning that they installed a series of Batik pattern stamps as an ode of acknowledgement towards the nation's most well-known art.
It is great to see that international companies who branched in the country displays great amount of respect towards Indonesian cultural elements

now readers, how does office interior designs differ back in your countries? Let us know in the comment below