Open Office – Unrestricted Communication. More and more, shared offices are giving way to open office spaces. They foster creativity, exchange – communication. These spaces, however, have one drawback: Wherever people are talking, typing and sorting papers, or telephones are ringing and printers are chirping, it can get loud. It's not only disturbing, but it also affects performance and health.
Soundproofing ensures a good atmosphere. To counteract this issue, furniture manufacturers and acoustic solution specialists offer a wide variety of products – from partition walls to pictures and roll-down blinds – that work to improve the room's acoustic atmosphere. The number of partitions, pictures or blinds one needs depends on the particular room setup and design and should be taken into account with the initial planning of the room. In the end, the main concern for room planning is the comfort of those who will be using it. Planners have been aware of the idea that acoustics play a large part in this comfort for quite some time, and focus on holistic spatial solutions for that reason.
Acoustic Planning in pCon.planner. With Version 7.6 of pCon.planner PRO, you can visually display the acoustic effects of various room designs and materials. So, how does it work? It's possible with the help of our acoustic partners Schall & Raum and the import possibility of a specifically-developed exchange format (CNIVG). To visualize acoustic parameters such as sound pressure level, reverberation time and speech intelligibility within your room plans, all you need to do is transfer your plan to Schall & Raum. Based on the plan provided, acoustic parameters are calculated with the professional software CadnaR, which can then be imported into the room plan in the form of an interactive acoustic map and visually displayed. In addition to the map, Schall & Raum will also provide you with an analysis of the calculations and general information regarding room acoustics.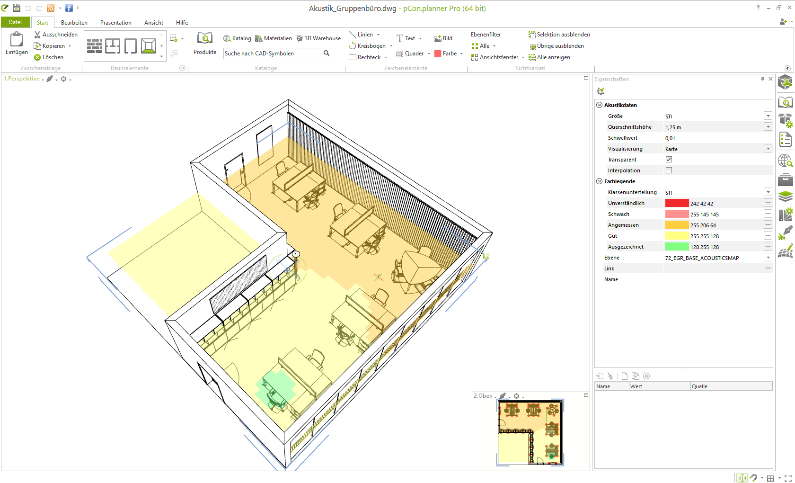 In the Properties Editor, you can determine which acoustic size should be displayed in the map. The different colors on the map, symbols for the various values, and the value ranges can all be individually customized. The respective map key can also be easily created.
Great sound in the layout area, too. The acoustic map, along with its properties and various settings, can also be displayed in the layout area. Aesthetic and functional, you can also create impressive presentations for the acoustic conditions of various designs.

In addition to renderings and floor plans, you can also aesthetically and effectively display the speech intelligibility or reverberation times of a room thanks to acoustic maps – in the plan itself or the layout area.
Room acoustics in pCon.planner: Stronger value for your plans, stronger arguments for your sales team, stronger service for your customers.