Starting point for solutions. Wherever complex product knowledge is concerned, the right amount of detail and focus is also required. Customers expect impressive presentations of solutions tailor-made to their needs, and such success all starts with preparation. After all, those who have access to sophisticated planning solutions during their presentation, rather than individual products, will reach their customer solution goal that much faster.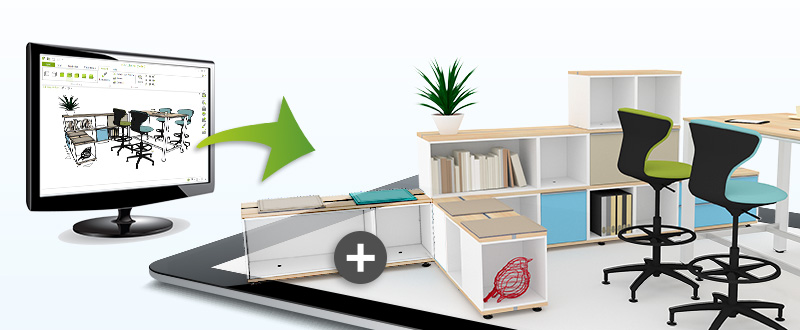 From the plan to the customer pitch. Thanks to the new exchange format (PEC), typicals can be transferred from pCon.planner into the pCon.box – and therefore directly to the point of sale – and further edited. This offers the in-house sales team the opportunity to prepare and configure individual, detailed planning solutions before the actual customer pitch. These can then be presented by the sales representative in the field on his or her tablet and can be further customized to fit the particular needs of the customer. With this feature, the settings created in the room planner can be saved to any cloud, transferred and then loaded into any pCon.box project using the import function or can be opened as a new project – in the configuration created in pCon.planner, of course.
This video shows how a solution can be imported from the planner into pCon.box, and therefore to the point of sale – presentation-ready thanks to the transfer of all plan details. Thanks to ASSMANN BÜROMÖBEL for that inspiration.
PEC – Archive format with internal value and external effect. The exchange of entire planning solutions creates a stronger connection between the internal and external sales teams. Of course, the sales representative who prefers to plan in pCon.planner while also utilizing mobile technology during the customer pitch can also benefit.
The pCon Exchange Container (or PEC) not only brings value to face-to-face customer communication, but also to order processing. This archive format supports graphic and commercial data – as well as manual articles – and functions as a link between all pCon applications, both on and offline. That means the planning solutions aren't limited to use within the pCon.box, but also for further processing in the pCon.basket and the room planner itself – both as an import and an OFML catalog.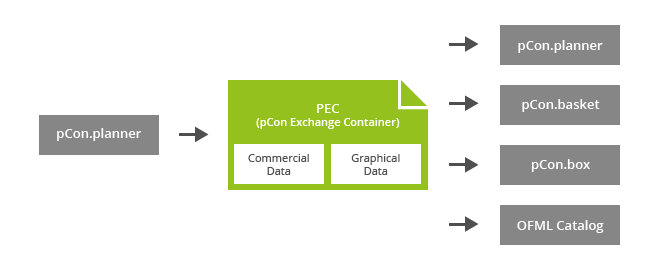 PECs created in pCon.planner can be further processed in all other pCon applications. For example, the pCon.basket can revert the OBX data contained in the archive format and can automatically display all available commercial data in the article list.
Further technical information regarding PEC have been summarized here. For questions regarding the exchange format and how it can be used in individual pCon applications, please don't hesitate to contact us.