Everything for the Dealer Network: Roadshow with a Technical Twist. Once again it's time for STIHL to host its annual roadshow "STIHL VIKING Treff", showcasing their latest products, marketing activities and news concerning their dealer network. As usual STIHL proves to have an eye for quality and an innovative mindset not only when it comes to their products but also by using the newest technology for their presentations. The keyword here is "Virtual Reality". But let's start at the beginning…
For several years now, the company is relying on the pCon.planner for consulting their specialist dealers when it comes to designing or rearranging their stores' interiors. STIHL's very own "Dealer and Partner Network" department designs the shops' layouts, defining where to place which product – by the use of pCon.planner. Additionally, the staff uses presentation material created with the 3d room planner to visualize those design concepts. And with the fast pace of technological progress also comes the change in presentation methods and information systems. For STIHL this means shifting from realistic renders and videos to Virtual Reality.
Get some live impressions during the roadshow – the HTC Vive is packed and the STIHL staff is ready to show you around their virtual-real shops.


Getting prepared for the roadshow… and beyond: STIHL staff at a pCon.planner training session in Ilmenau. VR technology enriches communication and enables the dealers to experience their shops' new interiors before the actual rebuild.
Virtual Shop Design and Interactive Product Show – Old News to STIHL. STIHL staff and dealers can discover the company's quality products in virtual environments for quite some time now. With changing scenes and an impressive level of detail, the project "STIHL Training goes Virtual Reality" is an attractive complement to the traditional product trainings offered by STIHL and was recently awarded the eLearning Award 2017.
With the rise of VR technology in the process of consulting their dealers, STIHL takes the next step and proves once again: innovative product presentation is not a question of technical possibilities but of extraordinary ideas.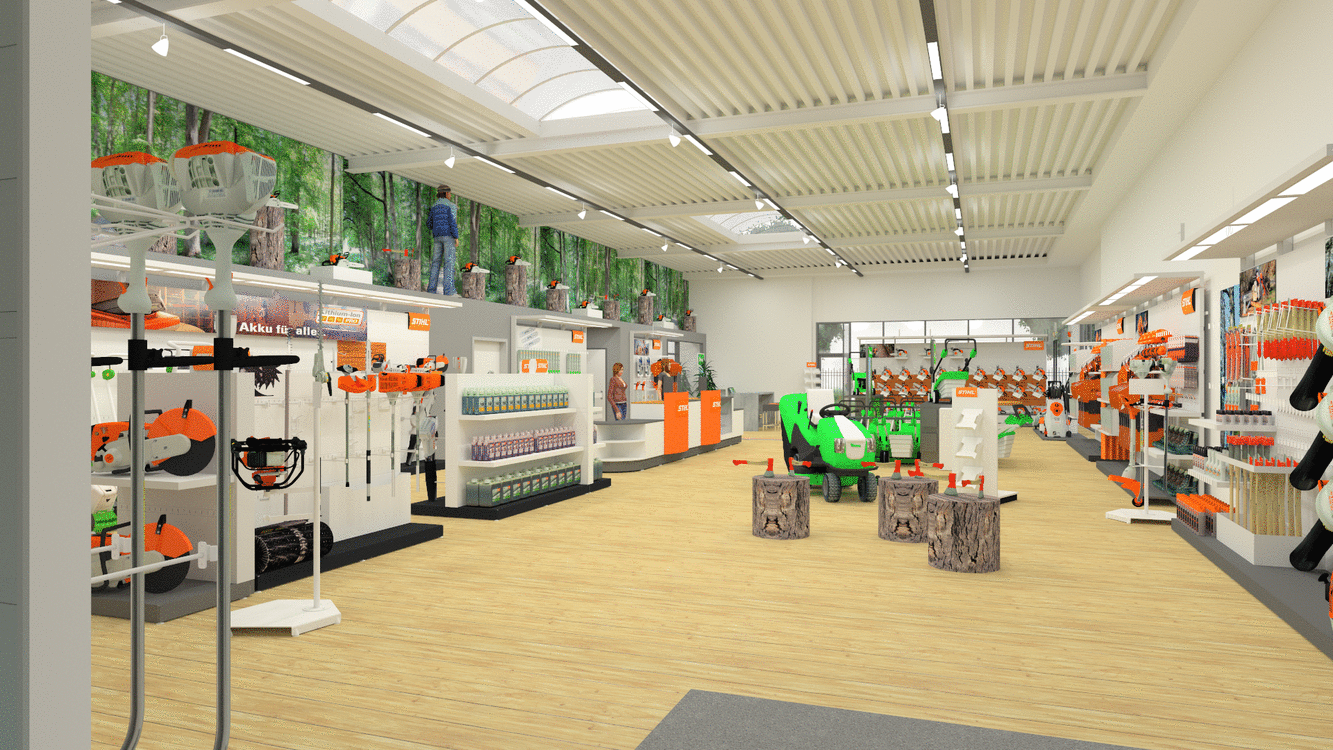 The shop's interior will be designed in 3d before the actual rebuild. This way, STIHL dealers can admire and assess new products and design twists at any point during the consulting session.
And as a side note: After 10 years of "Dealer and Network Development", STIHL will rebuild the 1000th store this year. We say Congratulations and are delighted that pCon.planner is an important accessory to this success story!