The workspace from 30 years ago wouldn't recognize itself today. Lines of cubicles replaced with open spaces and large desktops with tablets and laptops. And as I'm sure you're well aware, this new identity isn't just physical – it means a completely new functionality. After all, a stationary desk doesn't foster the creativity we desire, nor does it support the mobility that's required of us.
So what does this mean for workspace designers or furniture retailers looking to reach customers with the perfect workspace solution? What ensures an office that encourages creativity, while simultaneously fulfilling productivity needs? How about a place where teamwork is at the forefront? Brainstorming centers that are technically equipped for whatever task that comes their way. That's right – we're talking about central zones!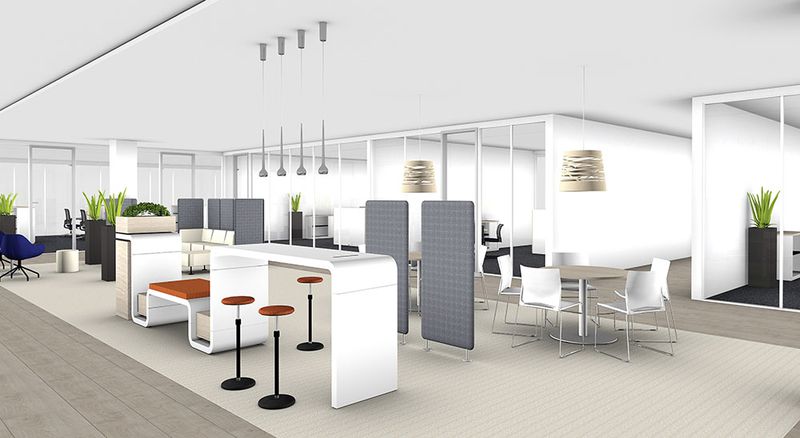 Image courtesy: Ceka.de.
Also referred to as collaboration zones, central zones are meant to create a space that adapts to the current needs of its users. Whether a creative break is in order, a short conversation, or an intensive brainstorming session, central zones are equipped with the furniture and technology required to meet these needs. And since more and more companies are utilizing such spaces, it's important to have a way to implement them into office designs.
Plan once, continue to benefit.
If you're dealing with a customer that wants to modernize their workspace, chances are you'll be working with a space that already exists. It's your job to take that space and create opportunities. The best way to do so? Work directly with the floor plan to ensure the most efficient design for your central zone.
With the pCon.box, you can directly upload your customer's floor plan into the box and get to work. Not only can you work in the plan itself, but you can quickly and easily test out furniture designs until you find the best fit for your customer's particular needs. With the help of OFML data, configuration of these 3D models goes without saying

Uploaded as an image into the pCon.box, the floor plan can be used to determine the perfect central zone for this particular space..
The success of the central zone is no secret to manufacturers. That means you'll find plenty of 3D CAD models to fill your collaborative space. Ready to create the perfect central zone for your customer? Download the pCon.box today and get started!