pCon.planner offers a wide spectrum of functions that allow users to create fantastic plans with various demands – simple, quick and professional planning. Nevertheless, you seem to run into a few annoying discrepancies during the planning process: it doesn't matter what you try, you just can't seem to insert the floor and the walls don't seem to stay in place. Or maybe you don't realize until the rendering starts that the shelf is slightly hovering over the ground or something with the room just isn't right. To help you avoid such scenarios, we've put together a few tips and tricks that will help you move seamlessly through the planning process.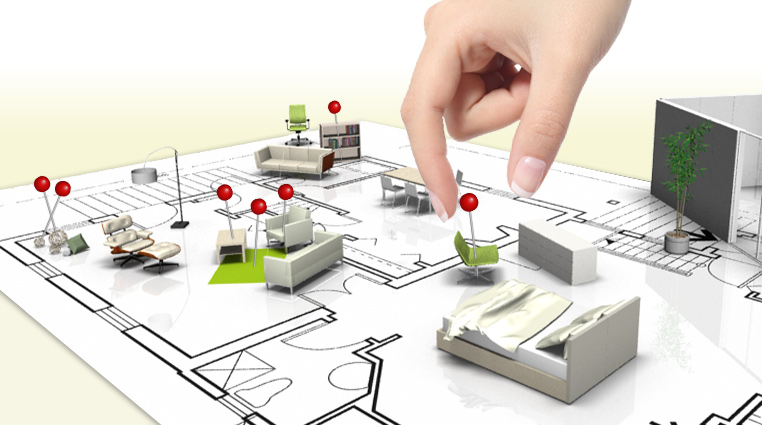 Stay Grounded: Ever wonder why your floors and walls are constantly moving unintentionally? pCon.planner is a click-sensitive software. With just a simple click, for example, objects can be selected and deselected. Click uncontrollably within the view and move the mouse, and it could easily be that you've moved an object without realizing it. So, be sure to pay attention when clicking. Unsure whether an object is selected or not, simply press Esc on your keyboard, and any selecting will be removed. Elements that definitely shouldn't be moved, like walls or floors, can be locked. That way, you don't have to worry about them moving by accident.
Laying floor: A floor can only be inserted when the walls around it are closed. Select all of the walls and click on "Connect" in the Room Elements section under the Start tab. Now try laying the floor once again.
Change the perspective more often:  The room planner offers various 2D and 3D projections and render styles. When planning, it is most certainly advisable to use all of the views available to you. In "Top" view, you can plan ideally in a 2D-projected floor plan, set walls or insert and organize objects within a room. But are the tables and chairs really on the floor? A 2D "Front" view, for example, is the perfect view to double check. To get a better feel for the room or to check the proportions, it's helpful to use a 3D projection. And don't forget, there are also various render styles you can use: Floor plans are best seen in wireframe mode, while other modes are better for the over-all impression of a furnished room.
Always on point: If you always seem to be moving tables and chairs that you've inserted in the plan to the proper height, or you always have to realign objects, the User Coordinate System can help. Move the reference point to the desired position and objects can be aligned according to it.
Looking to learn more about using pCon.planner? Have a look in the Help Center or book a training course.