Your customers are human beings. Okay, okay… I know that sounds a bit obvious and somewhat strange to say, but bear with me here. What I mean is – your customers aren't robots. They don't fit into a standard "sales formula", there is no mathematical equation to win them over, and you certainly can't program them to think a certain way and buy a particular product.
As buyers, we're much more complex than that. We feed off emotional connection. Not only do we have to love a product, but we have to love the experience that comes with it. And in a world that rarely slows down and is constantly on the go, such an impression isn't always an easy feat.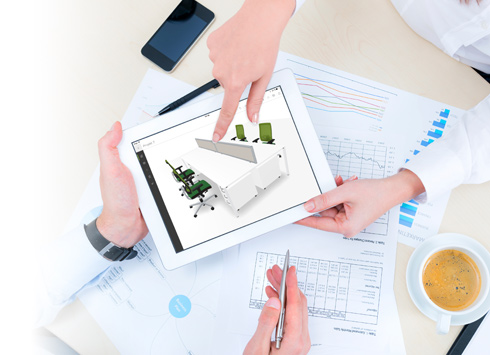 Create an Experience

Your customer is looking for the perfect product for their space. That's where you come in. You've got the expertise, the know-how and the connections this customer needs to provide them with exactly what they're looking for. But let's not forget this customer is a part of that on-the-go, fast-paced world I spoke of earlier. That means you not only have to provide the fitting options, but you've got to be mobile and you've got to be accurate.
This is the exact scenario we prepared for when developing the pCon.box. Now's the perfect time to take your tablet out of your bag, launch the sales app, and start creating solutions together with your client.
Expert Plus. It's not enough to know your product inside and out; you've got to find a way to visualize that to your customer – especially in the furniture sector, where products have millions of variations and configuration possibilities. Want to impress your client? Combine your expertise with configurable data from the box.
Be accurate, be efficient. Let's face it, mistakes happen. But these can be detrimental to the flow and progress of the sales experience. There's nothing worse than promising a product that doesn't exist or adding one too many zeros to the price. Rule-based OFML data and automatically generated pricelists ensure that a hiccup like this won't come into play.
Make it personal. Market research shows that customers love personalization. Nothing makes someone love a product or service more than knowing it was created specifically for them. That's what makes working with the interactive sales app so great. You're not just making a sale, you're creating a solution. You're connecting with the client, crafting a tailor-made solution together and fostering an emotional connection with the product.
Combine your expert product knowledge with precision and personalization, and you're well on the way to creating a sales experience that won't easily be forgotten. Just think of the pCon.box as your handy companion on the road to sale success.
Ready to be the ultimate expert consultant?
Combine your sales skills with the tools from the pCon.box and take your consultancy to the next level. You can find more information on the pCon.box or try out the web version here.