Experiencing furniture. 360° panoramas and virtual reality are all the rage. We talk about these ideas, technologies, opportunities and devices – but are there really measurable results for such enthusiasm? Time and time again we see impressive projects created by our customers. They speak of practical relevance and the significance of new presentation opportunities in a world where products are no longer just a product, but rather one piece of a complex, interactive solution that can be brought to life.
The idea of integrating panoramic images into pCon solutions reaches back to 2011. At that time, VR headsets were still a thing of the future. But it didn't take long to realize that – with little effort – these panoramic views could have an enormous effect on presentation. Today, there are high-performance mobile devices that use the latest browser technology to bring virtual spaces to life – and, of course, in a photo-realistic manner!
Emotions have many layers. Those looking to keep their products and solutions in the customer's mind must also score points when it comes to presentation and consultancy. It's all about making a lasting impression and addressing your customer. Or better yet – moving them. Actiu shows how this can be achieved through showroom visualization.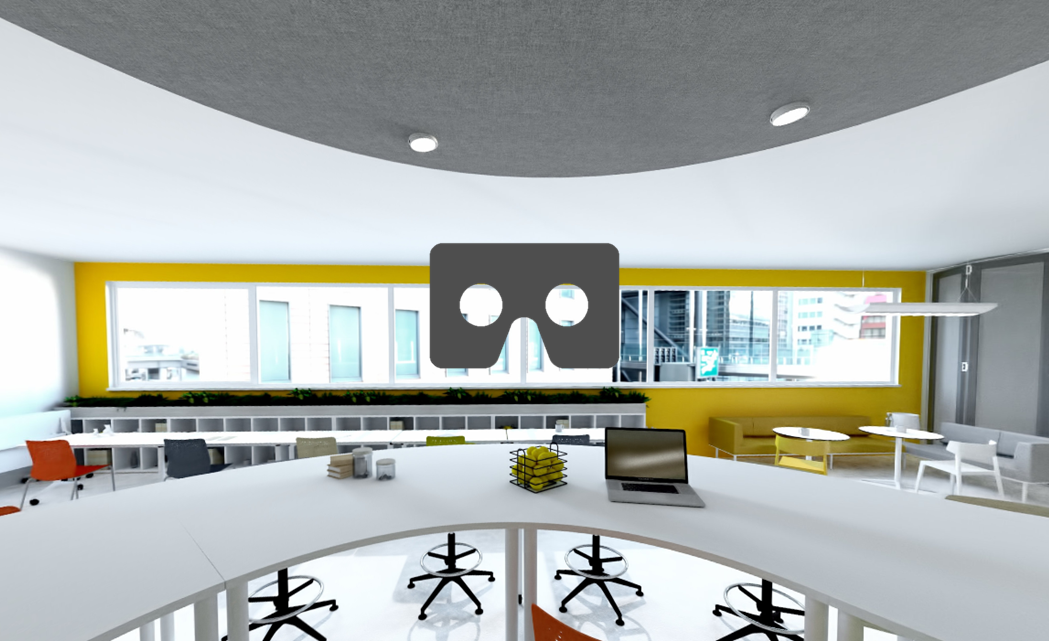 Click on the image to jump into the Actiu panorama.
Simply click on the logo and you'll be transported. The music starts, you see a large window front and the camera moves as if it has a mind of its own. A few seconds later, you can start the VR mode and will be swept away into the room concept. You can easily change the various locations and get an overview of the entire office. Keyword here: discover.
Synergy makes the difference. The Spanish office furniture manufacturer Actiu continues to show the astounding potential behind the combination of stationary planning tools and mobile technology: an innovative method for product presentation. The firm creates their photo-realistic renderings with pCon.planner's integrated renderer OSPRay and places the results exactly where their target group will find them; namely the company website. As if navigating the panorama on a tablet wasn't impressive enough, the solution can also be seen with a VR headset. And with that, Actiu conjures up a complete product experience.
Are you also interested in panoramic images and presentation with VR headsets? Then you'll need our room planner on your side! You can find pCon.planner here. For further questions or comments, please don't hesitate to contact us.