Great light benefits the sale. It's a fundamental component of our everyday lives, but often goes unnoticed until it doesn't optimally fit with our surroundings. We're talking about light.
Those who have to present products are always anxious to have the perfect lighting. Light is, after all, an essential part of the promotional process. Whether in shops, exhibition rooms or at a trade show – professional lighting technicians can usually be found. From colorfast general lighting to brilliant spotlights and efficient lighting management, these technicians implement carefully thought-out lighting concepts. When it comes to virtual settings, however, there's often a lack of time and know-how to set the proper lighting and provide the right atmosphere for the visualization of products and product solutions.
HDR images as a rendering light source. In short, an HDRI (High Dynamic Range Image) is an image with a higher dynamic range and contrast. Richer in detail than "normal" images, these pictures can depict the wide range of brightness that we find in our natural environment. Such images not only look great, but they also contain valuable light information that can be used as a light source for renderings in pCon.planner.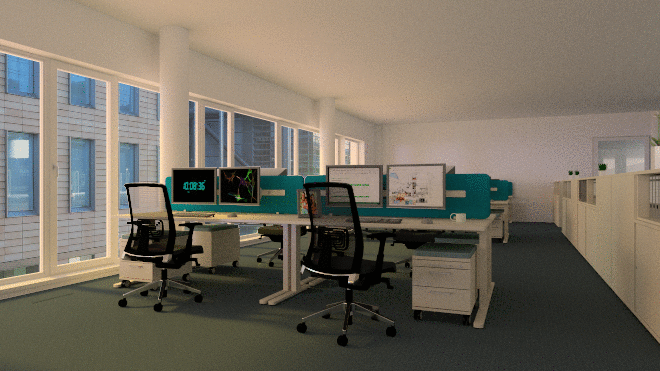 Light makes the difference! A different HDR image was used for each photo, but with the same settings. When the global mood lighting fits, it's time for the details like spot lights. We want to thank Haworth for providing the 3D plan.
By using these images, you can create atmospheric images quite quickly without the need to plan and adjust every lighting parameter, something that can generally take a great deal of time. A cool, stimulating atmosphere for the work place, a warmer ambient for the living room – a simple click of the mouse can make the difference. A customer will see the picture and form an opinion in an instant. The feeling that this first look gives could potentially be the difference between a "buy or don't buy" decision.
The perfect rendering? The use of HDR images allows for fast and efficient illumination of virtual scenes and easy compositing. Global "mood lighting" is easier to use than in the past, but in the end the fact still remains: the perfect rendering — just like in real-life interior decorating — requires a lot of tweaking and attention to detail. After all, the eyes see everything: products, colors, materials and light accents.
Want to learn more about HDRI as a light source? Take a look at this previous pCon blog post! Plus, for those who are looking to become professionals in virtual lighting and high-end renderings, we're happy to offer you individualized training!