With the amount of work that goes into a plan, it's vital that the effort can be seen with the completed rendering. After all, the presentation of a design is more often than not the most important part! That's why it's so important for us to continually develop and improve the integrated render engines in pCon.planner – to ensure the highest-quality results every time. It should come as no surprise then that we've implemented some great new features into the latest planner release!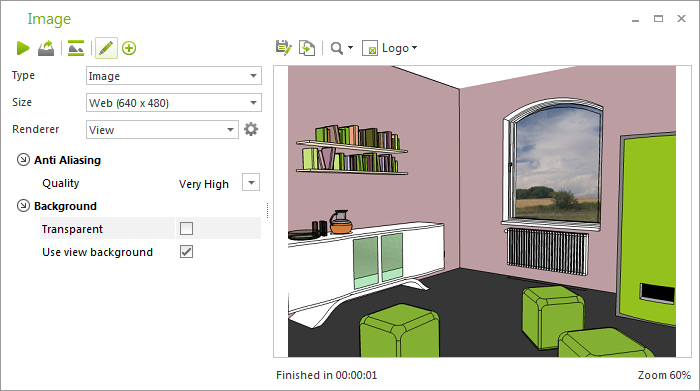 With pCon.planner 7.4, interface changes allow for a simpler rendering experience and newly integrated functions make OSPRay much more flexible and efficient to use. So, what can you expect with a download of the latest planner? Have a look!
Improved Background Implementation: Now that you can insert panoramic backgrounds into your planning area, it's only fitting that it's just as easy and efficient to use them when rendering, too. With OSPRay, you can upload a panoramic background for your rendering as well as easily adjust its rotation and opening angle. Adjusting the entire plan to find the perfect glimpse out the window is no longer required.
Keep it going: How often have you started a rendering only to realize half way through that something needs to be changed? Whether it's the Tone Mapping, background settings or stopping conditions, you can now make changes during the rendering process. There's no need to restart!
Full Speed Ahead: An exciting new feature for OSPRay is its speed! Thanks to improved implementation and optimization of the render engine, your OSPRay renderings will render twice as fast as before.
Not just for Yafaray: In addition to optimized performance and ease of use, OSPRay also has a few new additions taken from the Yafaray playbook. The Architect camera type and self-illuminating materials (before only available with Yafaray) are now available for OSPRay, too!
Now it's your turn to explore the features for yourself! Haven't yet downloaded the newest version of pCon.planner? Now's the time!

*The download button is for the free standard version of pCon.planner. If you are a pCon.planner PRO or ME user, we ask that you wait to download the newest version until you receive the dialog prompt from pCon.planner informing you of an auto update.