Problem areas or impressive corners – rooms with pitched roofs can sometimes feel like a blessing, other times like a curse. But if you've got them, avoiding them won't help. Instead, constructive ideas are needed! With just a quick browse through the web, the message is clear: you may have less space to work with, but in a few simple steps, you'll end up with a cozy space full of personality!
To help, we've been on the search for small tips and tricks surrounding room design and pitched roofs. What we found: functional marvels for those with certain pragmatism and small creative retreats for the individualist type.
The Classic: Pitched roofs as miracle storage
Think a deep knee wall makes for a useless corner? Think again! It may not be the perfect spot for a normal wardrobe, but it can be great for storage if you let it. If you're a fan of modular shelf systems, then the USM Haller Configurator is perfect for you. With just a few clicks, you can put together your desired design and even decide how the interior will look. Such a shelf will quickly find its way into the "favorite" category and isn't just an eye-catcher in the virtual world.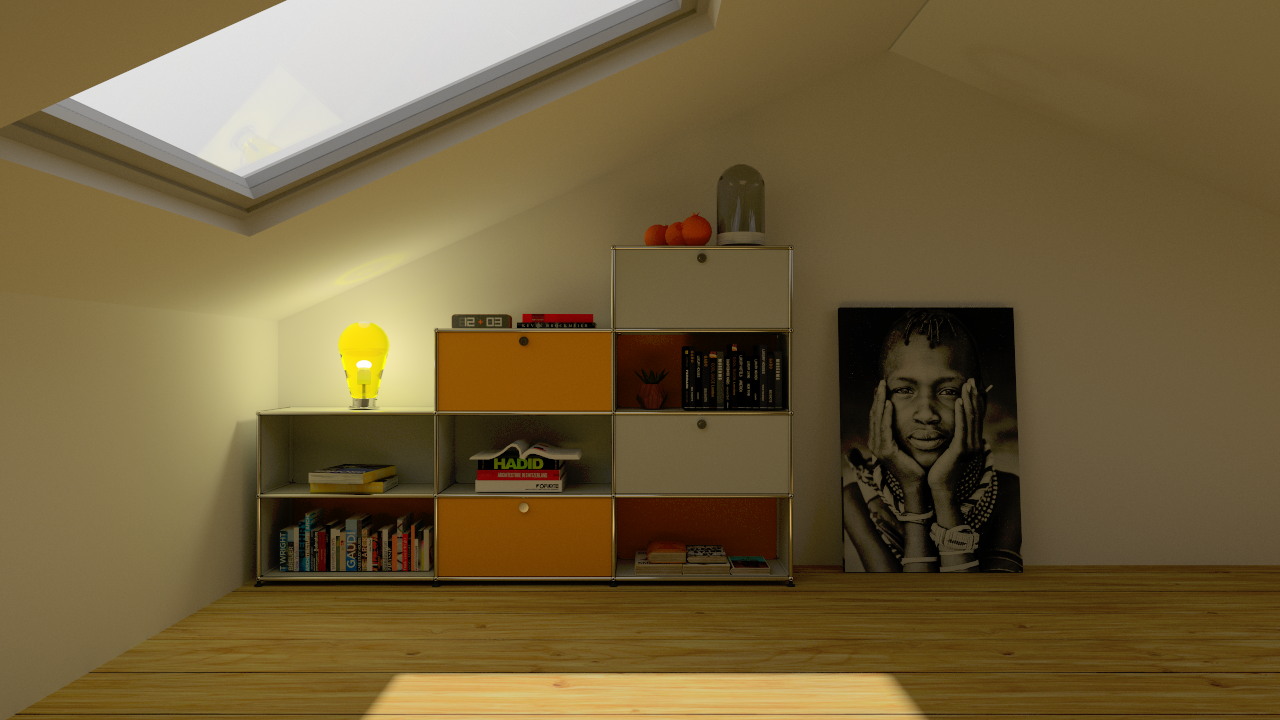 Custom CAD model – configured online, downloaded and opened in pCon.planner. More information on the technical aspects behind the configurator can be found here.
Looking for even more storage space? In this case, custom-made storage systems are also a possibility – whether from the manufacturer itself or self-built. Fitted cabinets leave no doubt that they belong in a room, as they're out of the way for your feet and your eyes. And since they fit so beautifully to the room, a small built-in cabinet can have a big effect on the overall space.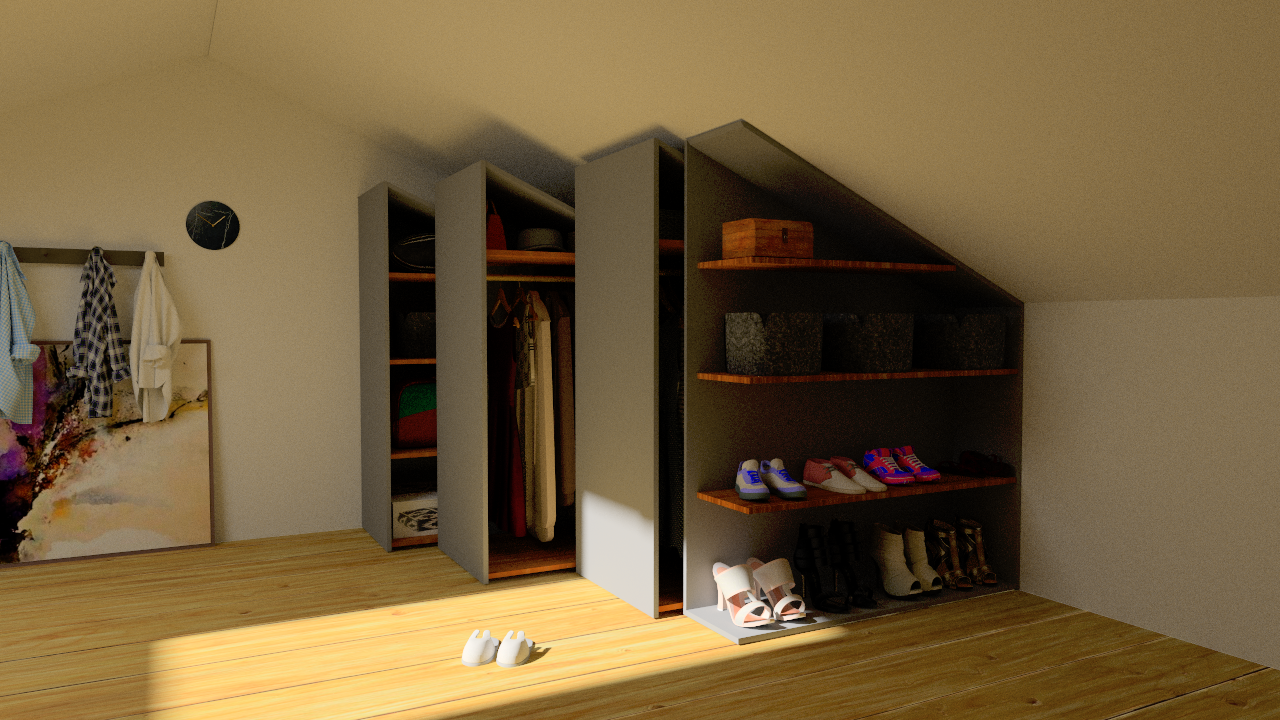 Self-made, built-in cabinet – constructed in pCon.planner.
Optically enlarging the room with delicate furniture or optimally saving space with build-in cabinets? The best part: the sky's the limit!
For Comfort: Pitched roofs as a place of retreat.
Pitched roofs are ideal for building cozy nests – and there are so many different ways you can do it. Don't worry about bumping you head on the slanted wall. Whether you choose a bed in the bedroom or a bath in the bathroom, lying beneath a sloped roof can provide a feeling of security. If the slope contains a window, even better. Enjoy lying beneath the stars or watching the birds.
Plus, the kids also enjoy having their own little retreat. Maybe like this?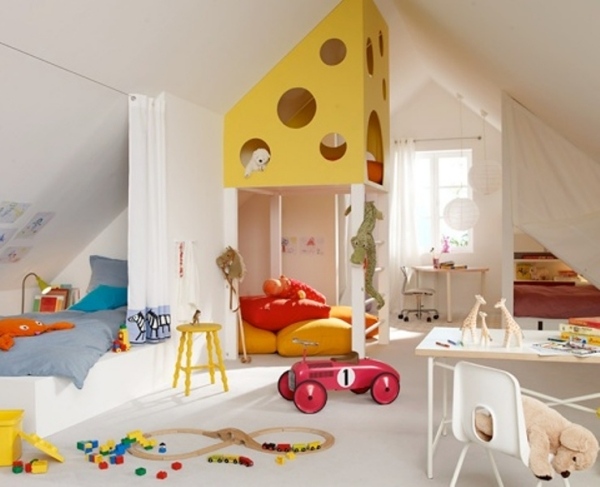 Maybe Swiss cheese isn't for everyone, but it's sure to attract the little rug rats running around

Image source: deavita.com
For Creativity: Accented pitched roofs for that wow effect.
There aren't too many people that avoid having an eye-catcher in their living or work spaces. They may use it to distract from untidy corners or, and more likely, because it provides a source of inspiration within the space and makes people feel at home. The best way to catch someone's attention is with a little bit of color accenting on the walls. You could simply paint the wall or provide accents through decorations like wall tattoos and pictures.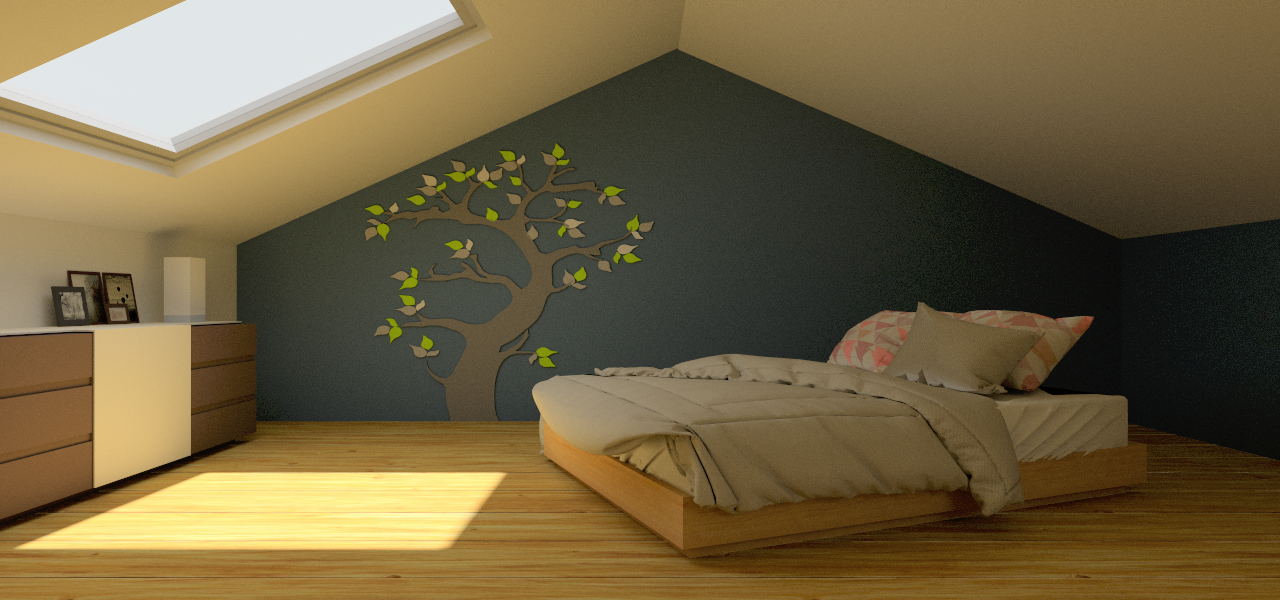 Popular Choice: Emphasizing the wall trimmed by roof slopes with color. When the slopes stay bright, they feel less restrictive and make for a much more comfortable setting.
If you're looking for the icing on the cake, the final touches can be accomplished through lighting. Naturally, we recommend testing it out in the virtual world first! In pCon.planner, you can move the furniture around in a breeze – making for a lot less work when the real moving starts.

Of course, before the designing starts, the roof pitch has to be built. Next week, we'll show you exactly how it's done in pCon.planner. So, stay tune… our next video tutorial is on the way!