Nothing brings quite as much charm to a scene as being able to peer over the balcony, looking down on the open space below. Let's face it, it worked pretty well for Romeo and Juliet 😉  And we can tell you, it's just as effective indoors as well. Whether converting an old warehouse into a residential space or creating extra room in a small apartment, lofts and mezzanines never fail to add character.  If you're looking to add this extra bit of flare to your own plans, pCon.planner has the right tools to help you do so.
Bring it up a level
The most prominent feature of lofts and mezzanines is the partial floor. This element allows you to create an "extra room" above an open floor plan, bringing both privacy and additional design features to the space. In pCon.planner you have a few options to make this possible. You can create two stories within your plan, with the second story following the floor plan you would like for your mezzanine. This also allows you to insert flooring into your partial story. From here, you can delete the additional walls you don't need up top and you end up with the over-sized wall heights that are characteristic of loft-type spaces. Additional elements like railing and staircases can then follow.
A second option would be to simply use the cuboid tool to create the shape and thickness of your mezzanine and position it where you would like it on the wall. The pillar tool then becomes a great option for structure support.
Under the Roof
Another prominent feature of lofts is that they tend to be in the attic or under the roof of a space. Often times this means that they find themselves under a pitched roof. Under the room elements tab in pCon.planner, this option is also available. Here you can choose to create the pitched roof from the first floor wall and add a cuboid element as your partial story, like we did below, or you can create a much larger space by adding a pitched roof to a two-story design.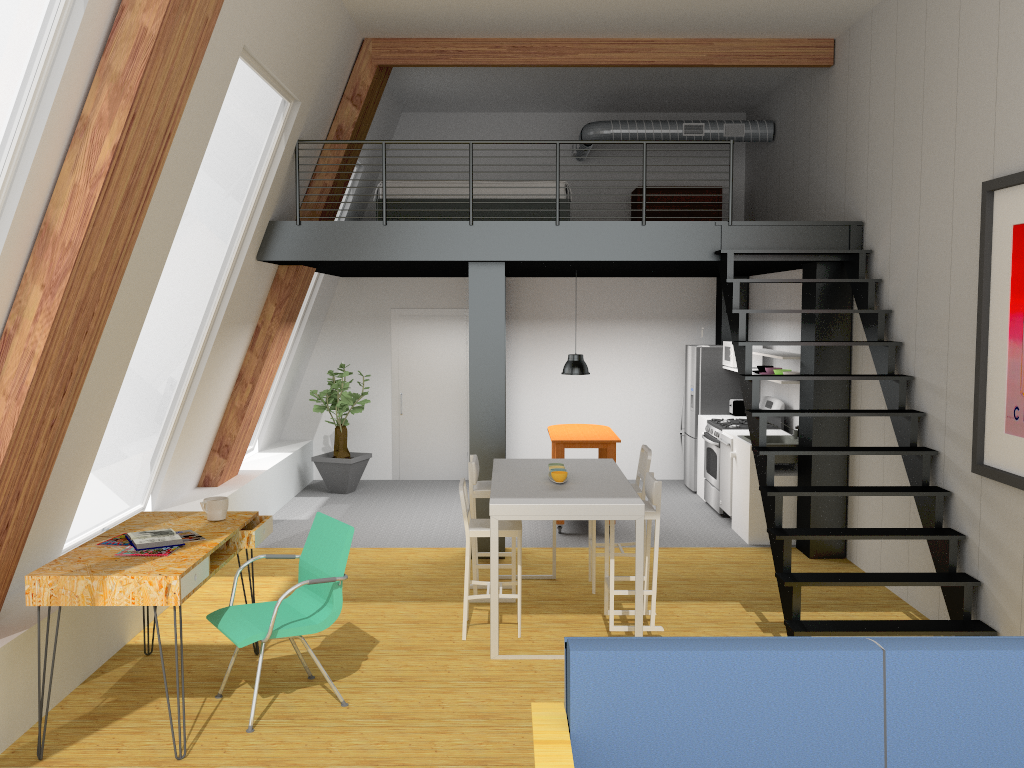 It's the little things

Converting industrial spaces is no longer a simple matter of necessity these days. It's actually all the rage. So, even if your plan isn't actually a warehouse flip, you can still add the features that give off that impression. These are the little things that really add character to the space. Exposed beams and air ducts are the perfect example, bringing just the right amount of "edge" to your design. In this case, the drawing elements will be your best friend. You can draw the length and width of a beam with the polyline tool, for example, and extrude it to the desired thickness. You can also try your hand at exposed air ducts using the sphere tool, or take a look in the 3D Warehouse for ones that have already been created for you – a little splash of materials like worn woods, aluminum and exposed brick will do trick to give that extra industrial touch to the space.
Can you think of some other typical characteristics of spaces with mezzanines and lofts? Or have you used other methods or tricks to create such spaces? Comment below!