You've got a brand new computer with the newest technology and all the works. So, why isn't pCon.planner working to its fullest, and why is the quality not up to standard? Fear not, you're not alone, and it's likely a quick fix!
pCon.planner is a purely 3D application – that means for it to work to its full potential, it requires the use of appropriate technology. In this case, we're talking about something like OpenGL, a programming interface specifically meant for 2D and 3D rendering. To obtain the high-quality performance that you're looking for in pCon.planner, your computer needs to be using a 3D graphics card meant for such programs.
So what do you need to do to make sure this is the case?
Many of today's computers will have a hybrid graphics system. That means you have two graphics cards, an integrated graphics card for power-saving and a dedicated graphics card meant for high-powered performance, like that needed for 3D rendering. Most computers will use the power-saving graphics card by default. For high-performance in pCon.planner, however, you should ensure that the program is using the dedicated graphics card.
How you ask? It's simple! Apply the steps below and you'll be on your way to top-quality performance in no time. (Appropriate for Windows 7, 8 and 10)
Right click the desktop to select and open the NVIDIA Control Panel.* From there, select Manage 3D Settings under the 3D Settings menu. You now have two options:
You can choose to globally set the needed graphics card under Global Settings, as seen below…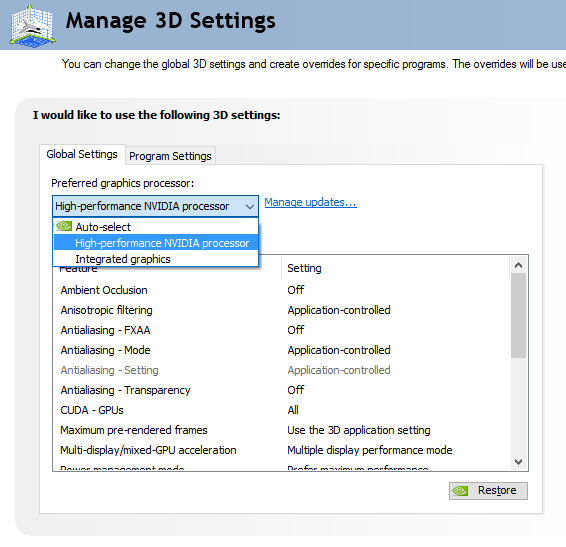 …or you can set the necessary graphics card for pCon.planner in particular. To do so, go to Program Settings. Choose pCon.planner from your programs list, and set the dedicated NVIDIA High-Performance Processor.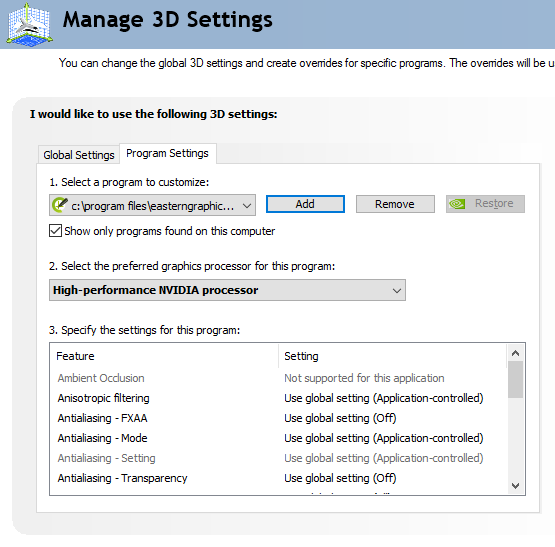 Once you apply the changes and restart pCon.planner, you should see a significant improvement in quality and performance.
Keep in mind that the computer in the example above has an Intel core processor with an NVIDIA high-performance GPU. For those with an AMD processor, you can change the settings within the AMD Radeon Settings.* To do so, right click on your desktop and select AMD Radeon Settings. Then, go to Preferences > Radeon Additional Settings and select Switchable Graphics Application Settings. You will then have the opportunity to choose the program and assign the high performance graphics card under Graphics Settings.
If you have further questions, simply leave a comment below. We're here to help!
*Note: If your computer does not have the newest graphics software installed, it may still be using the Catalyst Control Center. If this is the case, open the control center, select Power > Switchable Graphics. You will then have the opportunity to choose the program and graphics card you would like to use.