Lighting can be tricky. Not enough and your design looks dull and dreary, too much and it's painful to look at. That's not to mention the essential role it plays in the overall feel and look of the plan. And with such a vital element, we're not taking any chances. It's out with the old lighting, and in with the new!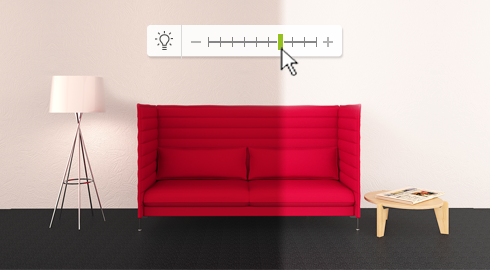 A new global ambient lighting is now available in pCon.planner 7.3. The lighting option has replaced the previously-used standard lighting, and provides a uniform illumination throughout your entire plan. This new feature is the default setting for any new plan you create, with the intensity automatically set at 100 percent. Brightening or darkening your plan, however, is easy as pie with the help of an intensity slide control. Your days of inputting light values are in the past.
The new global lighting can be seen in both Shaded and Realistic mode, and can be adjusted using the intensity slider under the Room Items dropdown.
For more features, be sure to take a look at our 7.3 New Features Document. Or, simply subscribe to the blog. We'll be highlighting even more features and providing more tips and tricks in the coming weeks!