We have to admit, even we can hardly wait for the newest version of the room planner to be released. We're always excited to see what users take away from the new features. And what features accompany a release, incidentally, aren't so much by chance, but rather a result of user feedback and the market demands of our professional users – across all branches, from manufacturers and retailers to architects and designers.
Since we recently wrote about the changes coming for the Render Modes, today we would like to introduce you to another new feature you can look forward to: for pCon.planner 7.3, we were sure not to shy away from revamping our printing functions.
After planning comes presentation. Once a plan is complete, the next step is to capture it, as quickly and as easily as possible, both as a high-quality printout and as a PDF file. With this, not only is the quality of the resulting printout important, but also the freedom to print the exact format you want – and to make the entire process as easy as possible through user-friendly interactions.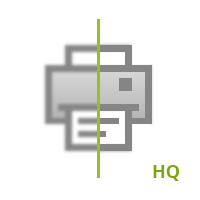 It all starts with… Vector Graphics. Users can now benefit in many ways from a new method for generating vector graphics. On one hand, the file size, as well as the required memory space for exporting, has been condensed. On the other hand, rendering times will be reduced, despite improvements in quality. With this, even large plans are razor sharp and printed quickly – there's no compromise between quality and performance. The secret lies in the further use of vector printing.
Whereas by conventional image printing, in which you might experience a staircase effect when zooming in on your plan – i.e. the image is pixelated – images are now as sharp as if in real life. This is the result of a new printing process that combines images and vector printing, therefore ensuring optimal viewing regardless of scaling. This mixed process is a default setting, and is applicable for all render modes and styles.
A combination of image and vector printing ensures a sharply printed result from here on out – despite scaling, the image quality remains the same.
pCon.planner 7.3 soon available! With the release of pCon.planner 7.3 just around the corner, you'll soon be able to test the printing method for yourself. For those who would like to read more details over the new functions, be sure to stay tuned. We're always looking to regularly provide tips and tricks for you here on the blog.
If your not sure if your working with the latest version of the planner, you can find the most current version of pCon.planner here, and soon 7.3, too!