Mid-century modern, Palladian, French Colonial… the list of architectural styles goes on and on. From the sash windows of an old Victorian home, to the void, open spaces of a modern, minimalist loft, the possibilities and opportunities of residential design are seemingly endless. And with that, the ability to customize floorplans, even down to the smallest of details, is essential.
That's exactly why pCon.planner is equipped with all of the necessary tools that allow you to take complete control of your floorplan. From advanced wall operations to custom windows, doors and floorings, let's take a look at some of the ways you can use the planner to accomplish a plan like no other.
Walls
A room is just four walls and a ceiling, right? Well sure, if you're thinking the bare minimum. But who wants that in a floor plan? The Room Elements section of pCon.planner is your first stop for ultra wall customization.
Not only can you change the wall thickness and height, but with the help of interactors you can manipulate other aspects of the wall as well, like adjust wall angles or create curved walls. For even more control, you can split an existing wall to change the angle, height or thickness of a particular section or add openings to walls for creative archways between rooms.
This floorplan below uses a variety of wall dimensions and thicknesses, recesses and opening to add interest to the design and adapt the plan to the needs of the apartment.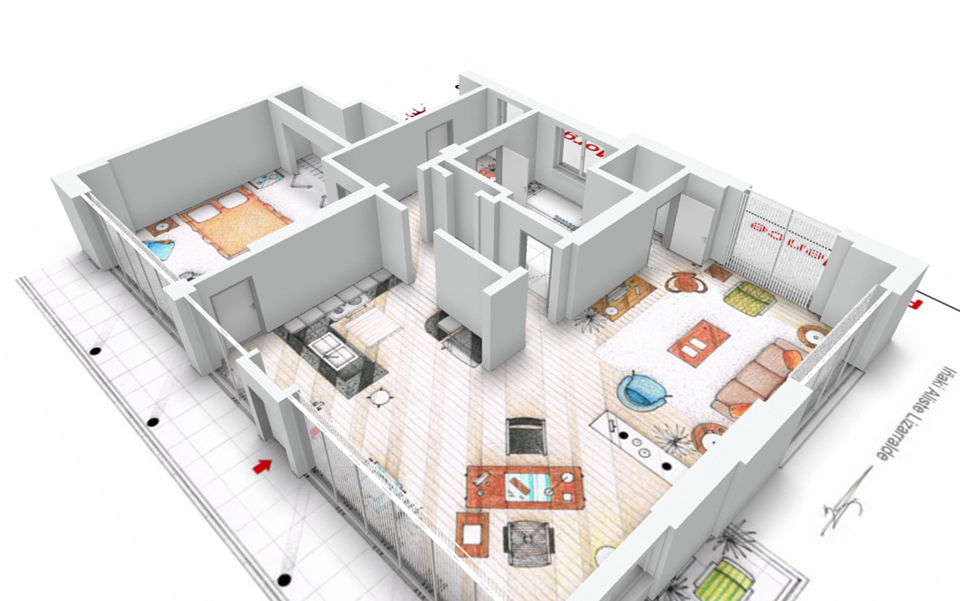 Floorplan source: design-milk.com; Walls drawn in pCon.planner
Doors and Windows
Looking to be creative from room to room as well? Not a problem, doorways and windows are just as customizable as the walls their built into. Again, in the Room Elements section of pCon.planner, you have a variety of tools for both door and window manipulation at your disposal.
Interactors allow you to easily change the height and width of doors and windows, as well as determine in which direction they open. You can also determine the number of segments for each, and further customize the individual sections.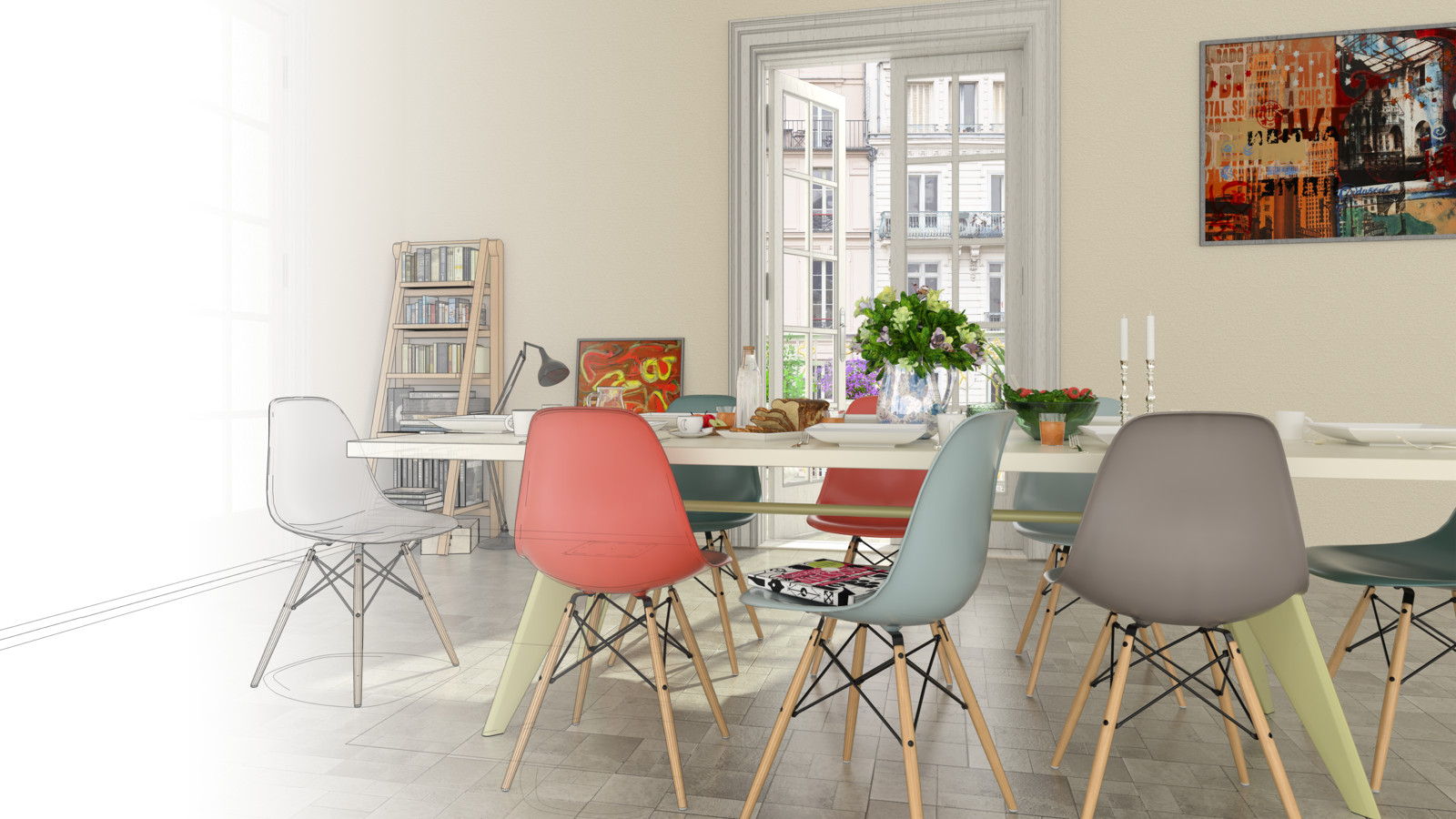 Wanting to create a particular architectural style? Play around with several different window styles, adding paneling, fanlights and adjusting materials. Can't get exactly what you want? Don't forget that you can find thousands of models in the 3D warehouse and further configure them within the planner.

Split Rooms
Last on our list, but certainly just the tip of the iceberg with customization possibilities, is the ability to split rooms. While pCon.planner requires you to have a closed space to insert flooring, the Split Room tool helps you to avoid this situation.
You'll find this option in the Additionals section of the Room Elements. By using this tool, you can create a "closed" area for flooring. This is perfect for an open floor plan where you'd like to change floorings from room to room, but don't have a completely enclosed area. This tool also allows you to adjust the ceiling for the particular area chosen.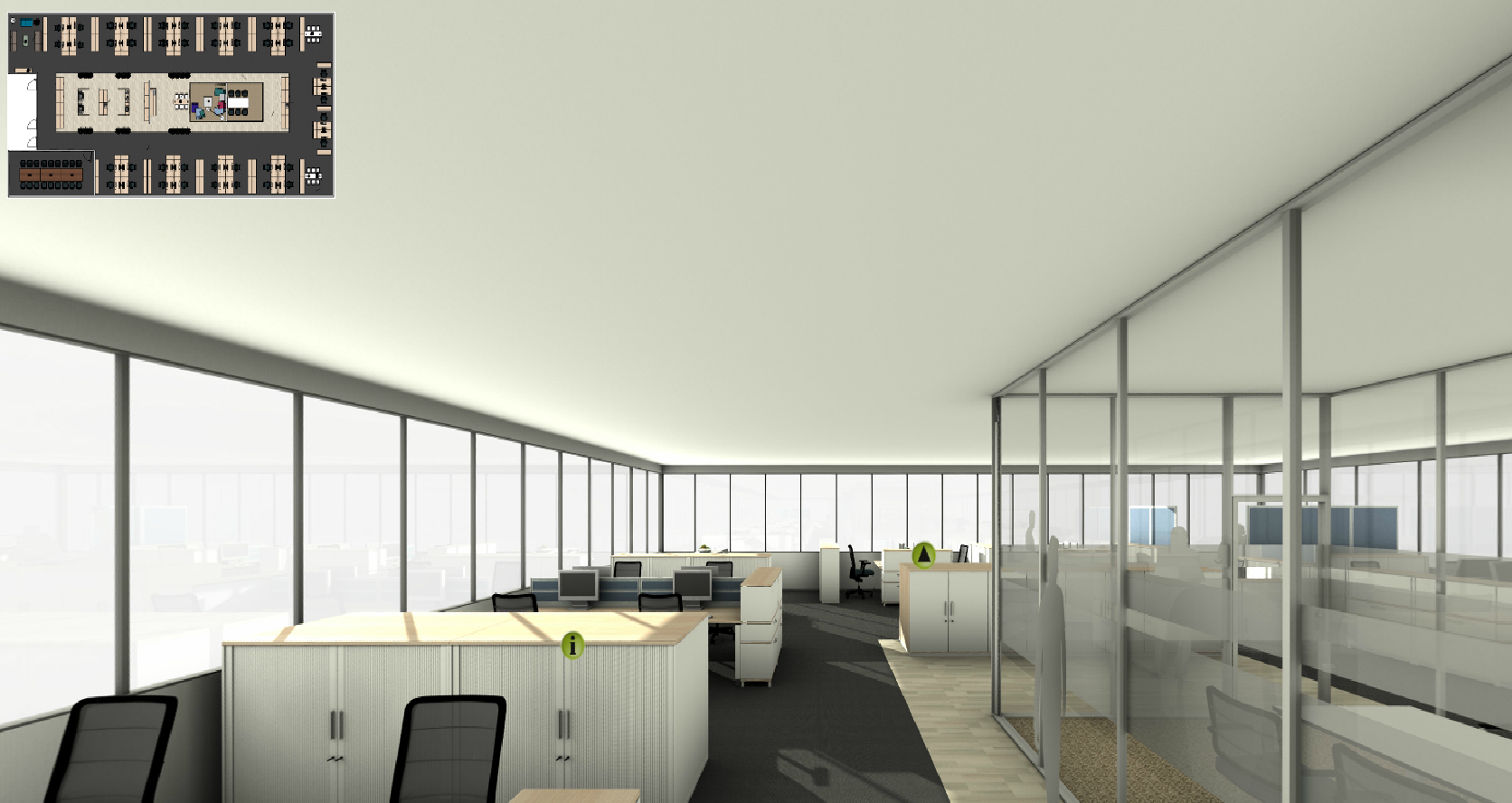 Take a look at this office panorama. With the help of split floors, walkways and sections have been created while still maintaining the open office layout.
As we said, this is just the beginning when it comes to the customization possibilities of pCon.planner. Now it's your turn to give it a try and see just how individualized your plan can be. Take a look at our Help Center for more detailed information on tools and room elements, and be sure to send us your final creations!