Spatial planning isn't just a question of one's own preferences. In addition to the suggested layouts and tips that make a design more aesthetically desirable, spatial planning guidelines can also help to ensure the safety and well-being of employees.
For ZDF, a large public-service television broadcaster in Germany, the assurance of such measures comes with the help of pCon.planner. The Mainz-based company uses our software for both relocation and area planning of its workspaces. To meet the spatial requirements for a safe and comfortable workplace before the time-consuming move of desks and closets is made, ZDF uses the convenient "User Area" and "Moving Area" features from the EasternGraphics standard library in pCon.planner PRO.
The reasoning behind such requirements, and how our room planning software can help you meet them, are discussed in this post.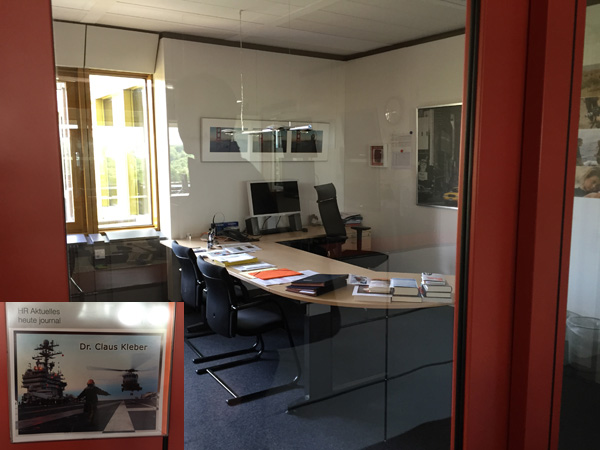 Even offices for TV Moderators need to be planned and fulfill the requirements for office spaces. Pictured here is the office of ZDF's "heute-journal" moderator Claus Kleber.
Background: Space planning in the office
While rules for office planning vary by location, it's no doubt that such regulations help ensure the well-being of employees. With such guidelines strictly enforced in some countries and highly-suggested in others, you may already be familiar with terms like movement area, walk ways and floor space. In that case, this blog post will serve as an overview of some of the most common guidelines and recommendations.  Many of these offices areas are available in the CAD data of the EasternGraphics standard library (in pCon.planner PRO). Thanks to these, in addition to furniture placement, you can also see an overview of the necessary space required.
Germany, in particular, has strict laws in regards to workplace planning and layout guidelines. Many of the European Commission guidelines and regulations are also based on the same German parameters. The dimensions given in today's post are based on the German Institute for Standardization's suggestions for the office work place (DIN 4543-1). Keep in mind that these are requirements based on German law, and exact dimensions may vary by country.
From desktops to walkways
Work Desk
For a "normal" work desk or table setup, the recommended working area is 1.28 sq. m. with a depth of 0.8 sq. m.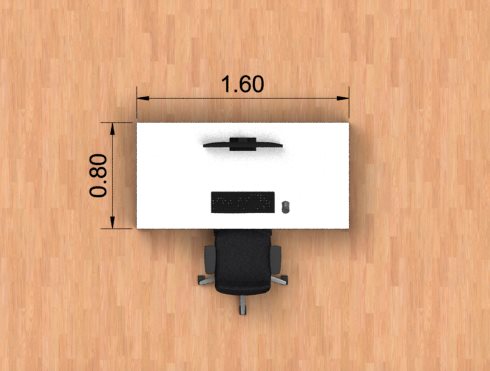 The work surface here corresponds with the necessary desk space.
User Area
An employee's desk isn't the only essential workplace in the office, however. The distance surrounding a desk for movement or a comfortable office chair must also be sufficient
For personally assigned space, users should have a distance of 1m.
Movement Areas
Apart from personal space, there should also be plenty of open space to allow for free movement around the office. According to the German standard (DIN 4543-1), each worker should have a space of 1.5 sq. m. In addition, the minimum width and length of any workspace should be 1 m. The free movement area can be superimposed onto a worker's space, meaning the work space and movement area may be identical.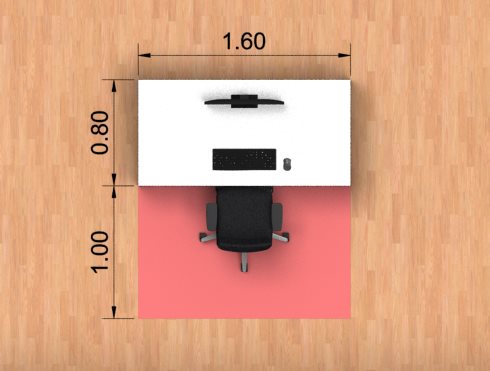 User area and movement areas may be identical. The user area can be recorded as OFML Data and can be made visible or invisible.
Utility Space for Furniture
"The utility space in the office is the part of the floor space necessary for the accommodation of work and other equipment, regardless of whether it touches the floor" (DIN 4543-1). That means for a desk, the utility space refers to all the space the desk requires, including the surface area.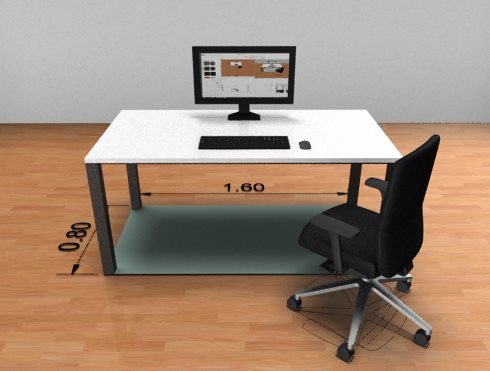 The utility space of a desk – marked here with a colored rectangle – generally corresponds to the desk space.
Moving Areas for Furniture
"Moving area in the office refers to the part of the floor that is covered during the movement of furniture components, for example doors or drawers" (DIN 4543-1). This means that the functional space can overlap with one's own work space or free movement area.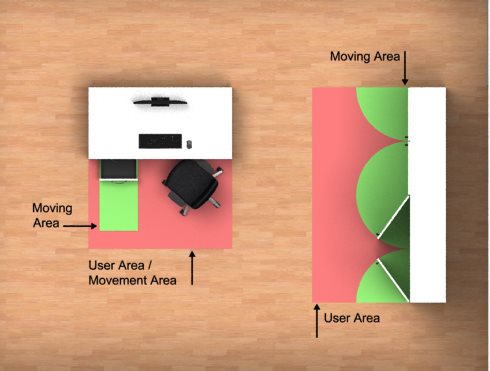 Moving area, user area and permissible overlays; these areas can be turned on and off in pCon.planner PRO.
Walkways
"Traffic areas in the office refer to surfaces used for walking and handling the transport of materials" (DIN 4543-1). As these walkways are also used by more than one person at a time, they should also be suitable as escape routes. The rules for such areas are laid out by the Federal Institute for Occupational Safety and Health (German: BAuA), and are as follows:
For an areas of up to 5 people, the minimum width should be 0.875 m., up to 20 people the width should reach at least 1 m., and for up to 200 people a width of 1.2 m. is necessary. In exceptional cases, it may be possible to have a walkway slightly narrower. However, a traffic route should never be narrower than 0.8 m.
Passage ways for personal workspace, or an area that is only used by one person, can have a width of 0.6 m.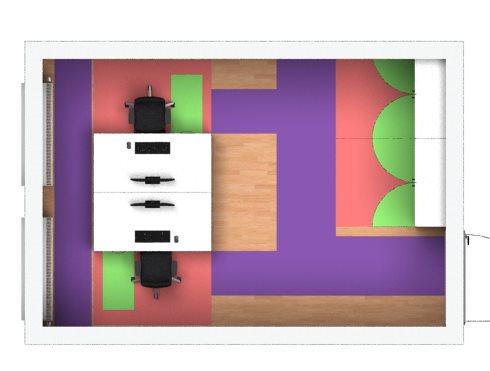 Walkways and areas in a two-person office
Note: Movement areas, work spaces, and traffic and escape routes can also be planned using our Online Planner at www.buero-forum.de or on our website.
More information and professional assistance
As with all rules, there are always some exceptions or special cases. This post should serve only as an overview for some of the basic concepts of office planning. Trained specialist planners can answer further questions and can also help you in the planning of your offices. More information can be found on the following websites:
http://www.buero-forum.de/en/planen/flaechenplanung/