Creating a thriving, productive workspace
When it comes to creating the perfect working environment, there are endless aspects to keep in mind. What do you want the space to do for employees, how do you want them to feel? Are you creating a room intended for group work and brainstorming, or looking to create a space for relaxation?
In today's blog, we're taking a look at some of the top design aspects to keep in mind when designing the ideal office space, and how pCon.planner can help you accomplish these design goals. From the construction of a room, down to the colors of its accessories, every detail counts.
1. Let there be (natural) light
You'd be surprised just how much your mood can control your productivity and creativity in the workplace. Uncontested by the majority of designers and ergonomics experts is the positive impact of natural lighting. Let's face it, if we're forced to spend most of our day indoors, a little touch of nature most certainly won't hurt. Not only does natural light increase our attentiveness leading to better productivity, but study after study has shown that it even improves our lives outside of the workplace. When designing a workplace, think about the amount and size of the windows you're putting in. More windows equals more natural light, or in other words, happier workers!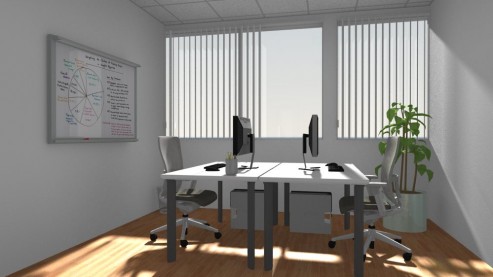 Within the wall elements section of pCon.planner, you have numerous options for window shapes, sizes and types. You even have the option for various models of blinds. With this option, you can fill the room with natural light, while still providing the option for a versatile workspace.
2. Mix up the fixtures
Perhaps you've been given an existing plan and don't have the option of adding windows. Try a combination of both direct and indirect lighting fixtures. Versatile lighting means a more versatile work space.
While direct lighting may be too harsh to be your one and only lighting choice, a healthy dose of direct lighting can better illuminate a work space, reducing headaches caused by working in a dim environment. To avoid glare on computers, however, a more indirect lighting is appropriate. Working with both direct and indirect lighting can help you create a more natural mix of shadows and illumination. Try placing lights parallel to a worker's line of site to reduce glare, or parallel to the windows to create a more naturally lit atmosphere.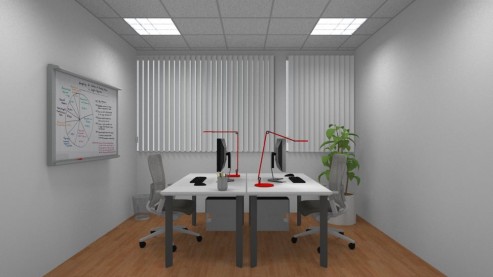 The room elements section in pCon.planner provides you with any lighting option your heart desires. Insert a ceiling grid into your plan to attach indirect lighting fixtures, or find a desk lamp within the pCon.catalog for a direct lighting option.
3. Give em' a Break
Sometimes our most creative concepts come when we're not thinking at all. When employees are comfortable and able to openly communicate, the best ideas come pouring out. For the break room, try going for an open layout with comfortable furniture. In addition to the much needed table and chairs for lunch, a communal area with a few comfy couches and end tables should do the trick. Not only will a relaxed common area give your workers a much needed break from the office, but it can foster community and help employees bond. With that said, however, it never hurts to have a few white boards here and there to jot down ideas when the creative juices start flowing!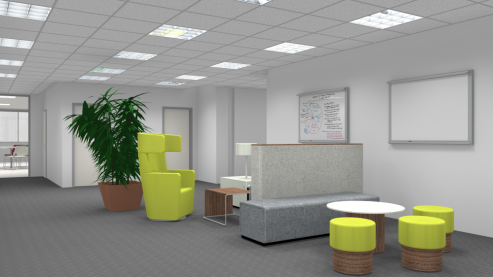 Take a look at our pCon.Catalog "Home" section to pick out the ideal furniture for a comfortable and creative break room.
4. The Perfect Shade
Color isn't simply a choice of favorites, it can actually have a positive, or sometimes negative, psychological effect on employees.
Reds: Red stimulates the brain. Perfect for areas where a lot of brainstorming activities takes place.
Oranges and Yellows: These keep employees awake and alert. They're better shades to incorporate into individual offices.
Greens and Blues: These are psychologically calming, yet motivating colors; great for the break room.
Let's not forget the neutrals, however. A neutral base with splashes of color tends to be the perfect combination to invoke a creative, stimulating environment without overwhelming workers. Try a highlighting wall or accessories like rugs and colorful paintings to even out a more neutral space.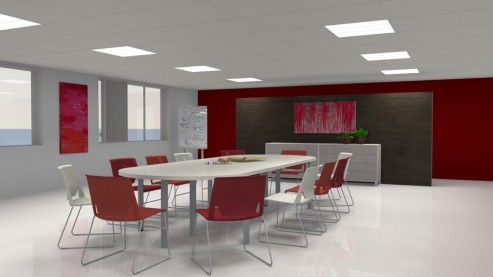 Within the Edit Tab of pCon.planner you'll find the Material Editor. Here, you can change up everything from wall and floor colors, down to the types of materials you use for room accessories. Colorful accessories can also be found within pCon.catalog. The creativity possibilities are endless!
5. Comfort is Key
Last, but certainly not least, give workers a place that makes them comfortable.
Employees need a little space to breathe. Leave at least 70 cm between a desks and any wall for room to move in or out with the desk chair. Working with a small place? Replace an extra set of drawers with shelves no more than 48 cm above the desk. Make an office space even more desirable by placing the desk in front of or near a window with a view of trees or nature.  Nothing is less motivating than staring at a blank wall for 8 hours a day, right? And with desk placement in mind, avoid putting a worker's back towards the door. Not only is this uninviting for co-workers and visitors, but it also puts the worker in a more vulnerable position.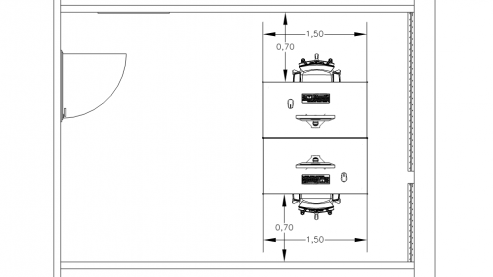 In the lower right corner of your pCon.planner viewing screen, you can edit and see the distances between room elements. Use this tool to help provide the necessary amount of space between objects and walls.
There you have it, our top 5 design tips for a more productive office space. We know we certainly haven't covered all the dos and don'ts of the perfect workplace, but we hope it's given you a little inspiration and direction for your next design adventure. So, what are you waiting for? Open up pCon.planner and let your creativity run wild!
Be sure to subscribe to our RSS Feed to stay up-to-date on the latest tips, tricks and pCon.planner news.