In the next few months, we'll be giving you an insight into the development of our products and introducing you to the individuals directly involved with our software. Today, the product manager for our 3D Room Planning software is here to talk with us and answer our questions.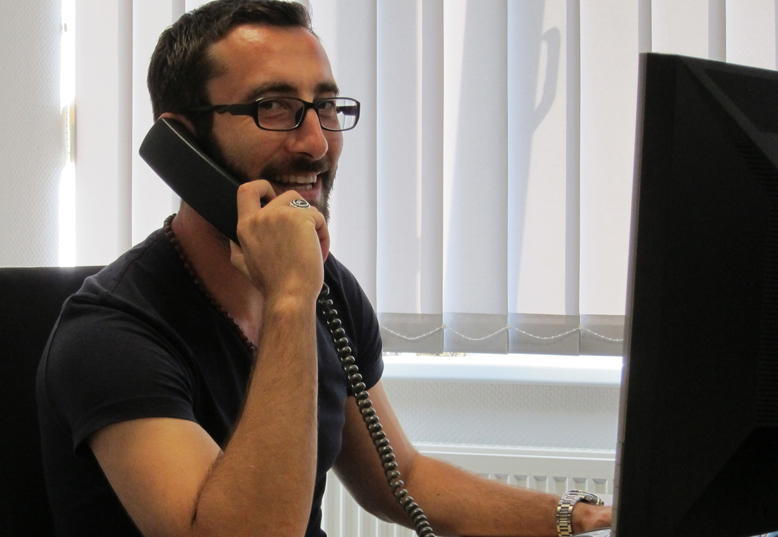 pCon-Blog: Briefly introduce yourself: What's your name? Which product are you responsible for at EasternGraphics, and since when?
My name is Caglar Özgür. I'm 32 years old and am originally from Turkey. I've worked for EasternGraphics for 6 years and have been responsible for the product pCon.planner since the beginning of 2014.
pCon-Blog: How did you arrive at this task?
I studied Computer Science with a minor in Economics at the Technical University in Ilmenau and was responsible for the pCon.planner social media channels on the side. Later, I then coordinated the complete online marketing activity for the 3D Room planner. So, in 2014, when my predecessor left the company, management came to me and entrusted me with the task of product manager.
pCon-Blog: How would you describe your role? What is the core of your activity?
My role can be described very well as the one-stop shop for pCon.planner. The core of my daily activities is the planning, implementing and monitoring of the pCon.planner release cycle.
pCon-Blog: What do you spend the majority of your time on? What are your daily challenges?
Reading and writing emails

… Actually, I spend a lot of time with the mediation and communication between the various teams and agents involved in the development of software. Of course, this also includes, in addition to the development team, our customers and users, subsidiaries, sales partners, project managers and accounting managers, as well as the marketing team, the testing team, our support team and, of course, management as well. And with that, I'm already talking about the second part of the question: With all the players involved, the greatest challenges are staying on top of things and managing my own time wisely. I've definitely learnt a lot in terms of time management and task prioritization in the last year and a half.
pCon-Blog: Where do you find new ideas and inspiration for the development of pCon.planner?
New ideas for development mainly come from the market: suggestions from users, positive and negative, are essential for further development of any software. With my position, being at the intersection of the different teams, I get feedback from all sorts of markets.
Of course, there is also input from the management. It wouldn't make much sense to develop something that overlooks the goals of the company.
In addition, we're always concerned with technological developments and innovations, and seeing if they make sense to integrate into pCon.planner.
pCon-Blog: How do you decide which new features will be included in the next program version? How long does it take from the idea to the implementation?
Overtime, I collect the feedback that comes to me from the various teams, and I present it to the management and the development team at the beginning of each release planning. There, we analyze the various suggestions and prioritize them. Some of the new features are viable within a release cycle (about 6 months), while others are more complex and implementation, including testing, can take up to a year.
We're currently working on the fall release. The features being implemented this time will be more profound in nature and, for some users, will certainly come as a surprise. But I don't want to reveal any more at this time.
pCon-Blog:What are you most proud of as product manager?
I'm particularly proud that I'm able to work in such a great team. With us, there's a great atmosphere, which is also reflected in our products. Only with such a great team are we able to provide such a great product like pCon.planner.