For many years, pCon.update has been used successfully as a service for distributing OFML product data and has established itself in the office and contract furniture market as a standard. Manufacturers and retailers benefit from its efficient data distribution, growing circle of users and the easy access to OFML data provided by the service. The greater success places greater demands on pCon.update and the latest revisions and upgrades to the web portal have now addressed these requirements.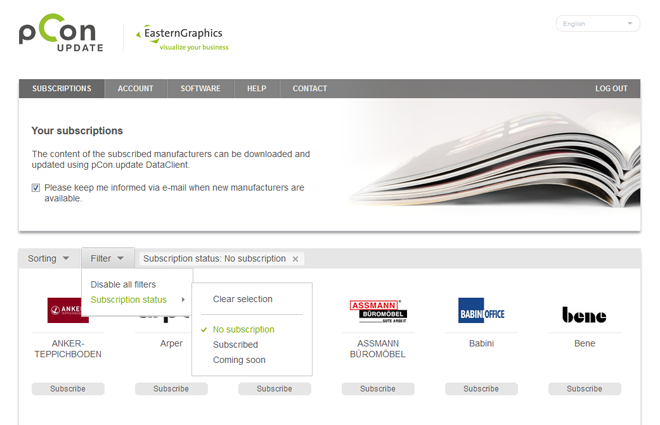 The website's new design and a general overhaul of the usability show the way forward for pCon.update. Users can now manage their data subscriptions much more easily and see at a glance which manufacturer data is already being obtained via the web service, from which manufacturer data has been requested and which providers will soon be making their data available via pCon.update. If support is required, users can open the contact information for the manufacturer with just one click rather than wasting time trying to find the right contact partner. The new sorting and filter options simplify the task of navigating the list of suppliers. If the user's wished-for-brand is not yet available in the portal, one can suggest its inclusion. pCon.update users can request to be informed about new additions to the portal by email.
New users of the web service benefit from the simplified registration process. The pCon.update registration assistant guides you through each step – from entering your contact information to selecting the manufacturers.
Further improvements to usability are already being planned for the website in order to simplify the work with the web service in the future. This applies equally to manufacturers who distribute their data via pCon.update: we are currently optimizing their user management options.