The pCon.planner 6.0 has been released already 6 years ago. Today's release of the new version 7.0 leads into the future of 3D room planning. The pCon.planner 7 comes with a design that feels both new and trusted. There are many new features in our release. We would like to present you some highlights subsequently: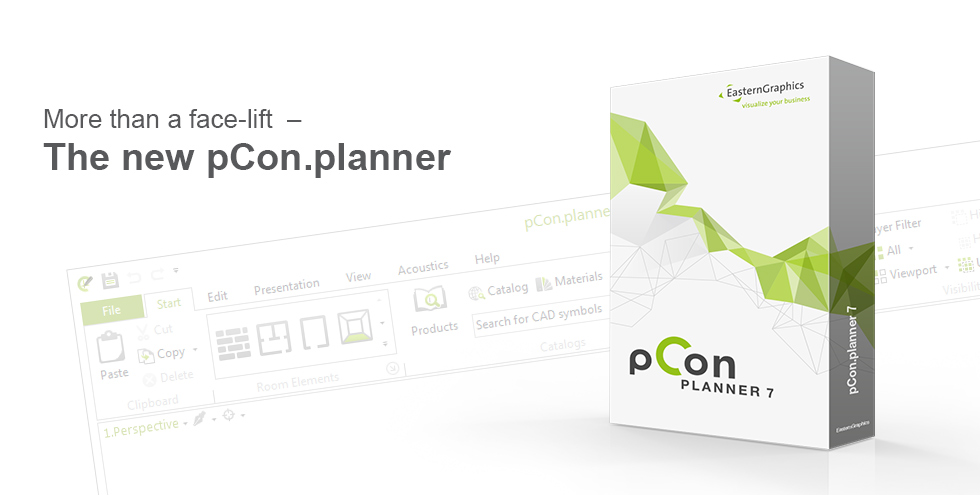 New User Interface
If you start your copy of pCon.planner 7 for the first time you will notice the updated design. There are many improvements in the structure of the registers and dialogs. And it is geared to give you a faster navigation to work more efficient in your planning process.
Toolbar
At the right edge of the workspace you will now find a new toolbar that has everything you need in quick access: properties editor, level control, the pCon.catalog and many more. All you need is just one click away.
Create 3D models for Impress
With the pCon.planner 7 you can now easily generate and present your planned objects in a three-dimensional version on the web. After uploading it to our online presentation service Impress you can interactively view your models in the browser, zoom into details or freely rotate them.
Render styles – even more individual
The design options for render styles in pCon.planner PRO give your planning a creative touch and make it a real eye-catcher. Adjusting brightness, contrast and saturation is very simple. Let yourself be inspired by the supplied color proposals such as sepia or grayscale. You will see the result in real time in your viewport.
Snapshot-Tool
Creating customized and high quality product images for lists of articles and offers is exactly what the new snapshot tool in pCon.planner 7 PRO is designed for. It is up to you which perspective you choose to see all product details. This will definitely enhance your sales documents!
Layout-Tool
The layout manager has also been revised for the new version. With one click you can easily transfer your selected objects from the planning area to the drawing area. To optimize your workflow it is now easier to reach important functions such as the image export in the layout manager.
Our website has also been updated! You can download the free version to get your own impression of the software. Of course you can also download the 30-day-trial of pCon.planner PRO. The automatic update will be activated during the next week.
You can read all about the new features and tools in our sales features document or at the online Help Center.