EasternGraphics is pleased to offer you a new online presentation service, which is available right now and free of charge. A tool that facilitates working in the modern world, a new solution for presenting and communicating in a world in which mobility is becoming increasingly important, a service named by its purpose: impress!

The current beta-version of the web service impress takes advantage of the cloud storage service Dropbox. Once the consent has been given by the user, the service accesses the corresponding Dropbox account and uses it as a storage location for uploaded media. This not only provides backup for your presentation data but also allows you to access this data at any time and from any location. When you start impress, you first have to open the administration area that provides an overview of your presentations. Here you can create, edit, view, send or delete presentations at the click of a mouse.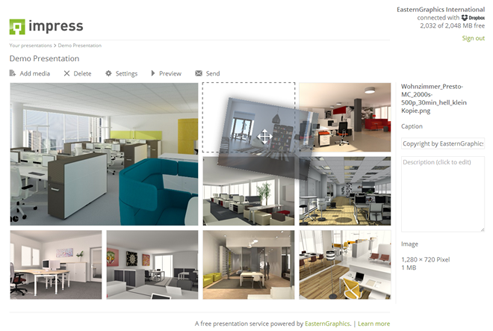 You can drag & drop the contents of the presentation to change their order.
When your presentation is complete, you can invite other people to view it by sending them a public link. By simply clicking on this link, your presentation opens in the recipient's browser, e.g. your customer or any other interested party. You can check in advance while modeling how the content is presented for the receiver of your link. Both you and your project partner can view all media content in the browser without having to install any additional plugins.
With today's release of the beta-version of the new service we offer a demo presentation that contains the three media types applicable in impress. On the pages "Learn more" in impress you can read all the important information about the service and immediately create your own presentation. Convince yourself of the potential of the new service and "get ready to impress".