As there was less and less space in my former student flat share, I decided to move into another flat in the middle of July this year. Having successfully found a new flat, I posed myself the question how I should furnish my new domicile. Therefore, I built a copy of my flat's ground plan in our 3D design software. I downloaded the furniture that I already possessed and placed everything correspondingly to my ideas.
I doubted that my flat could look particularly original and anyways I did not have much storage space. So, I thought: what about a bunk bed? No sooner said than done! I wanted to know what pCon.planner is capable of, but I was unsure if I would not have to fall back on paper and pencil in the end.
Therefore, I must say that I already have a bed in my disposal which should be integrated in the bunk bed construction.
After some testing it was sure: pCon.planner would be capable of managing this task. Like many other people that are living in cities, I had low supplies of useful tools on my commands. Hence, I had measured my bed in advance and matched it with the frame construction of the software to have the beam's length cut exactly in the end… So far in theory!
Now, it was time for building! wooden beams, screws, dowels, glue, an efficient drilling machine, chill-out music and a good friend – this is all you need to implement a project of this type. After two and a half hours, the framework, as it can be seen in the picture, was built up.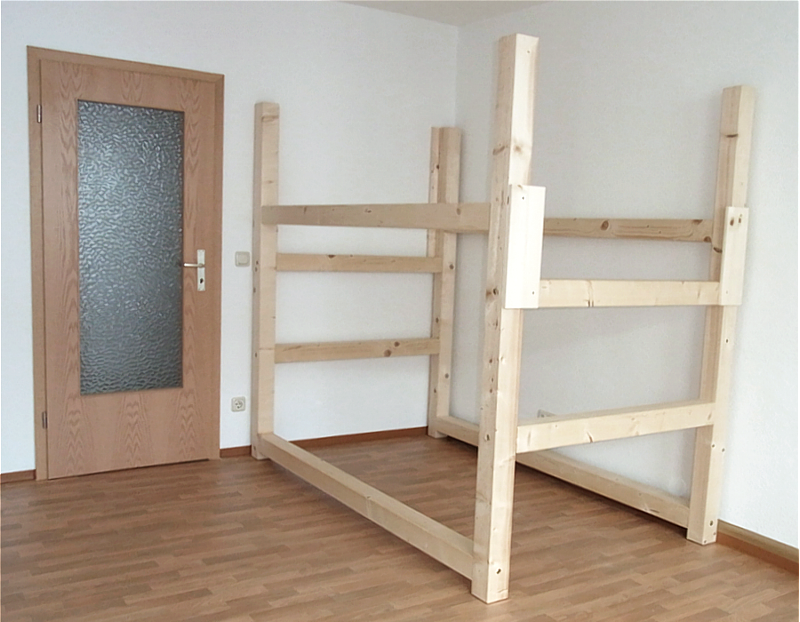 During the phase of construction, I had the idea to make the bed posts equally high… But why?
Soon I realized that the situation in practice differs from the computer as the protruding squared timbers take a lot of space. Without further ado, we shortened two of the timbers.
I neither know official statistics nor people from my closer acquaintance that ever fell out of a bunk bed. But although it is quite unlikely it is still possible. Hence, I created, firstly, a banister in pCon.planner. Subsequently, we bought wood and fixed the banister construction to the bed.
Fair enough, the framework was finished. The moment of truth followed directly afterwards: Would framework and bed match together? Did I measure everything correctly or did I overlook important details? What if the framework was too small or too long? It took a load of my mind as I saw that everything matched – first of all I could not believe it, but indeed: it perfectly fitted!
The second picture shows the "married parts", the dark bed with the light substructure and the banister.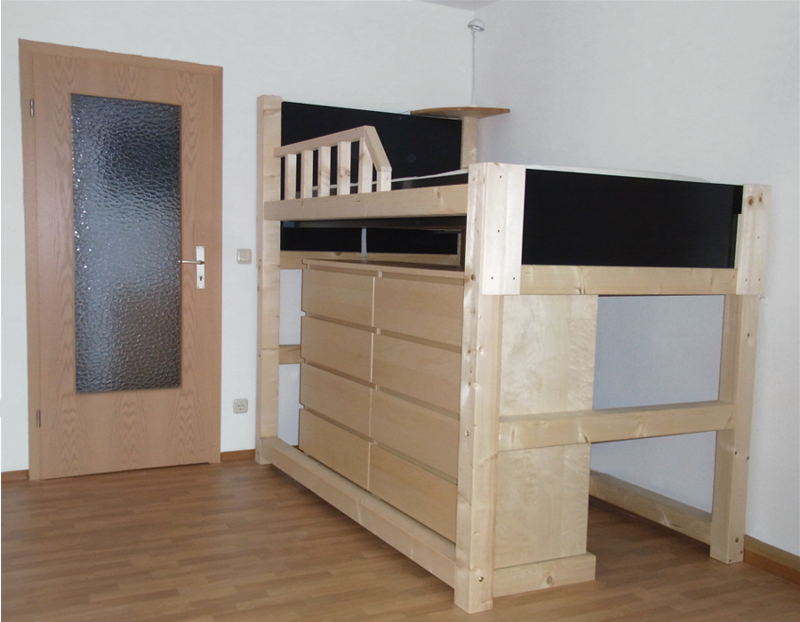 Well done! Everything worked as planned!
As good friends sometimes not only know how to build a bunk bed framework, but as well how to render images, the idea was born to render the self-constructed bed using the rendering-engine integrated in pCon.planner. Since my flat already existed in the planning, most of the requirements were fulfilled to achieve a good result.
The mix of know-how, patience and a powerful computer served to create the following image. Not bad, isn't it?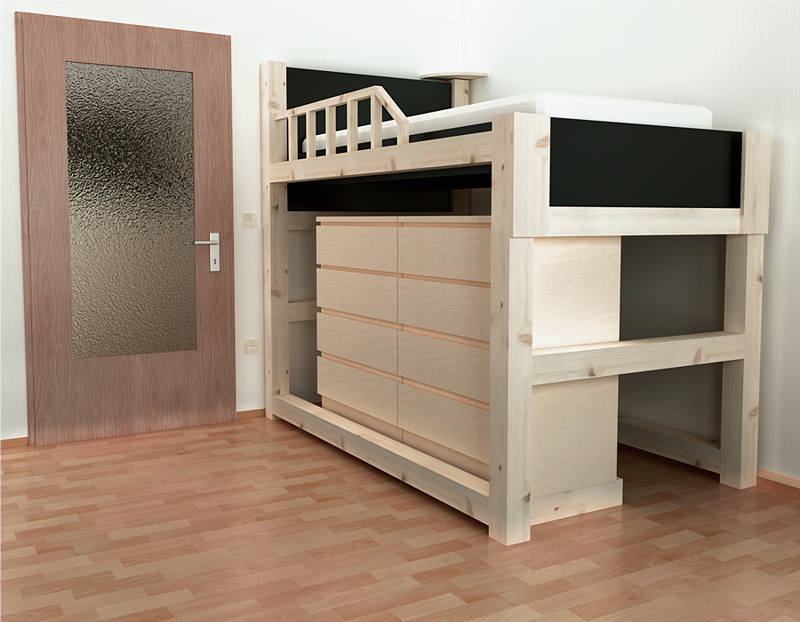 This was the story about my bunk bed. I learned that a good plan in the run-up helps to save time and work; and especially that theory and practice do not have to lie far apart.