1. Is pCon.planner really a free spatial planning software?
Yes, pCon.planner 6.3 is free of charge. Besides of the free version, there is also a commercial one – pCon.planner Pro. In comparison to the standard version, the fee required software differs mainly in terms of two additional features:
the layout tool
and the possibility to configure products
2. Where can I download pCon.planner
3. In which languages is pCon.planner provided?
Currently, the program can be installed in nine different languages: Danish, German, English, Spanish, Italian, Portuguese, Dutch, French and Rumanian. From version 6.4 on pCon.planner will also be provided in Turkish.
4. Where can I find support if I have problems concerning the software?
Online help:
Video Tutorials:
and of course looking at our pCon-Blog categories:
5. Is it possible to use pCon.planner on Mac OS X?
At present, pCon.planner is not available for the operating system Mac OS X. Nevertheless, you can use pCon.planner by applying the virtual windows system. For this purpose, Parallels Desktop and VMware Fusion are suitable products.
6. When and where do training courses for pCon.planner take place?
In Germany, training courses are organized by out partner Wegscheider Office Solution GmbH. More information about dates and contents about the courses can be found on their website. If you wish to participate in a training course in another country please contact our international partners.
7. Which email address do I have to use to ask for support?
support@EasternGraphics.com
8. Why do some of the display modes of pCon.planner not work on my computer?
For this problem, we have created an extensive document which can be downloaded here.
9. Why is it not possible to select objects in plannings any more?
This problem may have different causes:
Please check, if the snap mode is activated. Therefore, click on the magnet icon in the bottom right of the status bar. If there is no tick on either of the snap modes, none of the objects can be selected. Just click select all to activate all of the modes and a selection of objects will be possible.
Please check, if you are in the walk mode. If the walk mode icon (two footprints) in the bottom right of the status bar is dyed orange, the walk mode is activated. By clicking on the icon (pressing F9 or esc), you are able to leave this mode. A selection should be possible afterwards.
10. Is it possible to create renderings with pCon.planner 6.3?
Because of the integrated rendering engine, it is easily possible to create pictures or videos of plannings in a photo-realistic quality. The following picture, as well as the video, have been rendered using pCon.planner 6.3.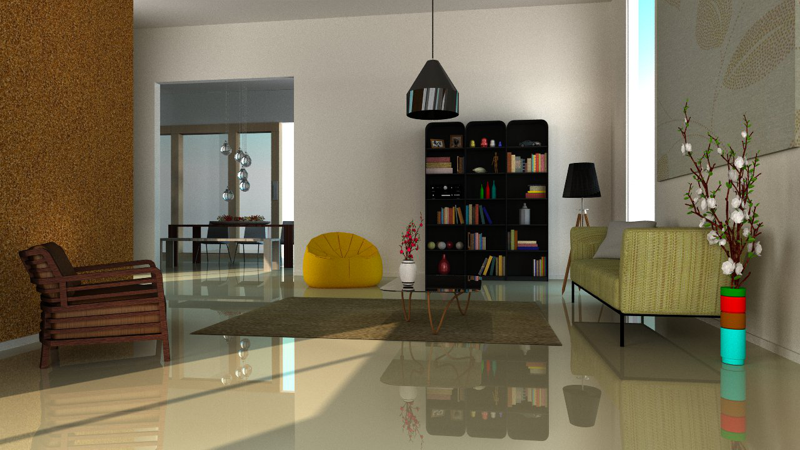 [hana-flv-player video="https://www.easterngraphics.com/pcon/en/wp-content/uploads/2011/08/Bene.mp4″ width="495″ height="391″ description="This photo-realistic video was made in cooperation with Bene." player="2″ autoload="true" autoplay="false" loop="false" autorewind="false" /]