Products
pCon.planner – New renderer available
At Orgatec, EasternGraphics will present pCon.planner for the first time with a module for calculating photo-realistic images. This module is intended to supplement the existing options for presenting furnishing solutions.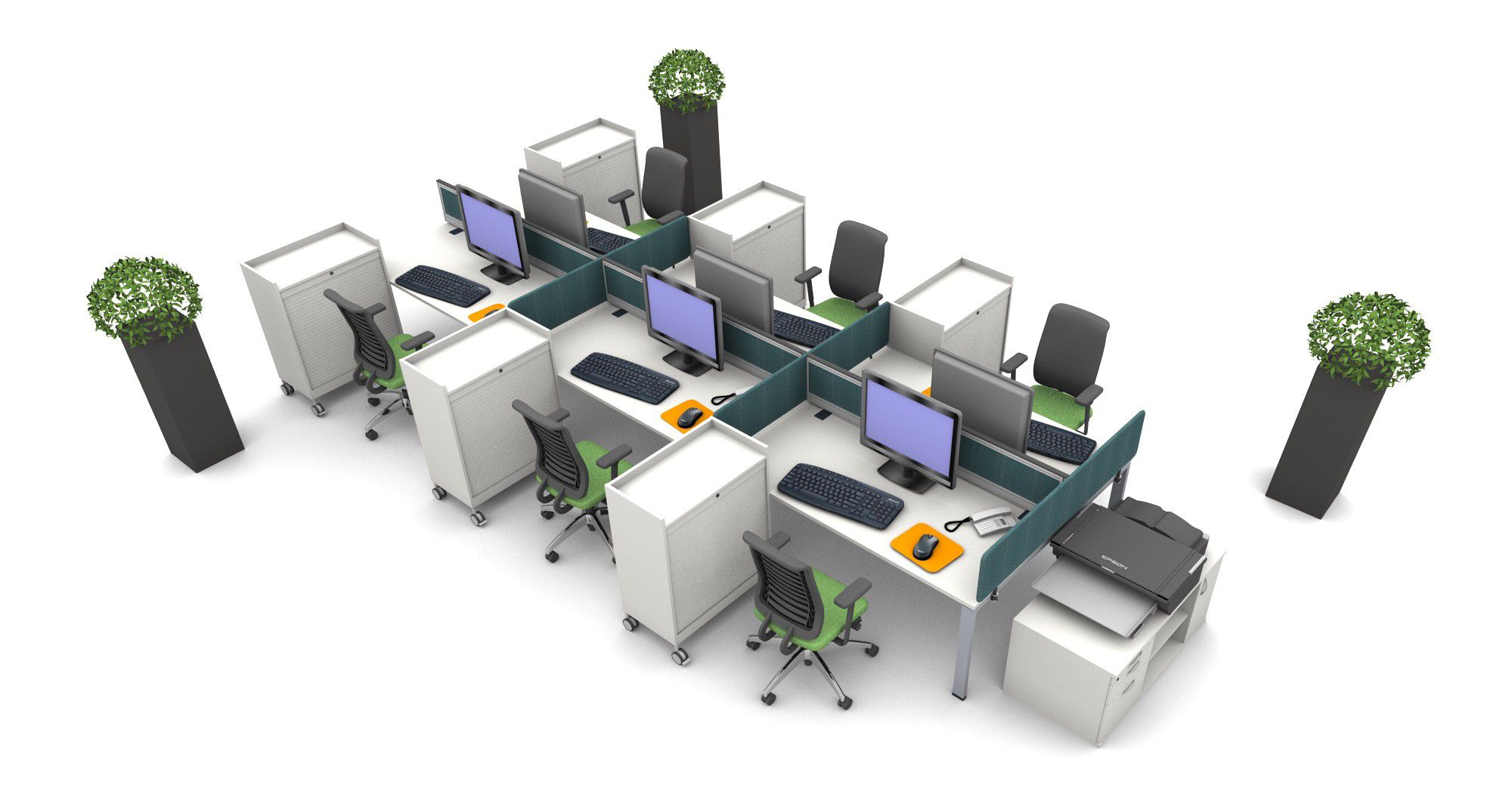 Special attention has been paid to ensuring that even unpractised users with no detailed knowledge of light and materials are quickly able to produce attractive results. A number of examples are to be found in the pCon.planner Gallery. As well as photo-realistic representations, it is also possible to visualize planning sessions in a grey-shaded format. This style is well-suited for use in presenting neutral layouts, for example. Shading can also be calculated for this type of representation.

Alongside the integrated rendering system, EasternGraphics has developed an interface to the 3D-Studio for the pCon.planner PRO-Version. This allows the user to generate files in FBX format in pCon.planner. These can be opened in 3D-Studio in good quality (geometry, material properties etc.) for further processing. The module thus bridges the gap between pCon.planner and 3D-Studio.
The above components will be available in pCon.planner Version 6.3, which will be presented at Orgatec. The module for calculating photo-realistic images will also be available in a limited form in the free version of pCon.planner.
Strategy
Social networks – Unimagined opportunities
How can you reach tens of thousands of users in just four months? How can one entry in a forum lead to thousands of downloads and what role do social networks play in our business lives? Social networks such as Facebook are a unique platform for communication and have grown rapidly over recent years attracting a phenomenal number of users all over the world.
Social networks have already found their way into the office furniture sector. Bene, for example, uses an open Facebook account in order to communicate actively with its customers and other people interested in the company. Almost 1000 Facebook users regularly follow the activity in the Bene Facebook account. The networking aspect is a significant factor. From the Bene page, users can automatically access other accounts, such as that of the company Fritz Hansen. In this way, enormous network structures can be created in a very short space of time – followed by thousands of users and growing every day.
It is most important for Social networks that useful information is made available and then used by interested parties. Producing this information can be time consuming and social networks have been criticised for their poor record on data protection. However, if companies succeed in integrating systems such as Facebook or Twitter effectively into their existing workflows, they could become a powerful marketing tool in the future.
Research
iPhone and iPad – Presentation tools?
Although it may sound strange at first, the iPhone and iPad could become valuable tools for stimulating sales in future. They are easy to use, quick to access and fun. In almost no time, these systems have become extraordinarily popular and spawned applications in all sorts of sectors.
The sales figures published by Apple are impressive. The number of available applications is growing rapidly. Major media groups are expecting the dawn of a new age and hope to be able to market their content in new ways. There is also potential in the furnishings sector.
EasternGraphics is currently investigating how the iPhone and iPad can be used in future for presenting planning sessions. pCon.planner could generate information to be processed and presented using a special pCon-App. Graphic planning sessions could then be presented on an iPad at the touch of a button. The following illustrations show the first approaches.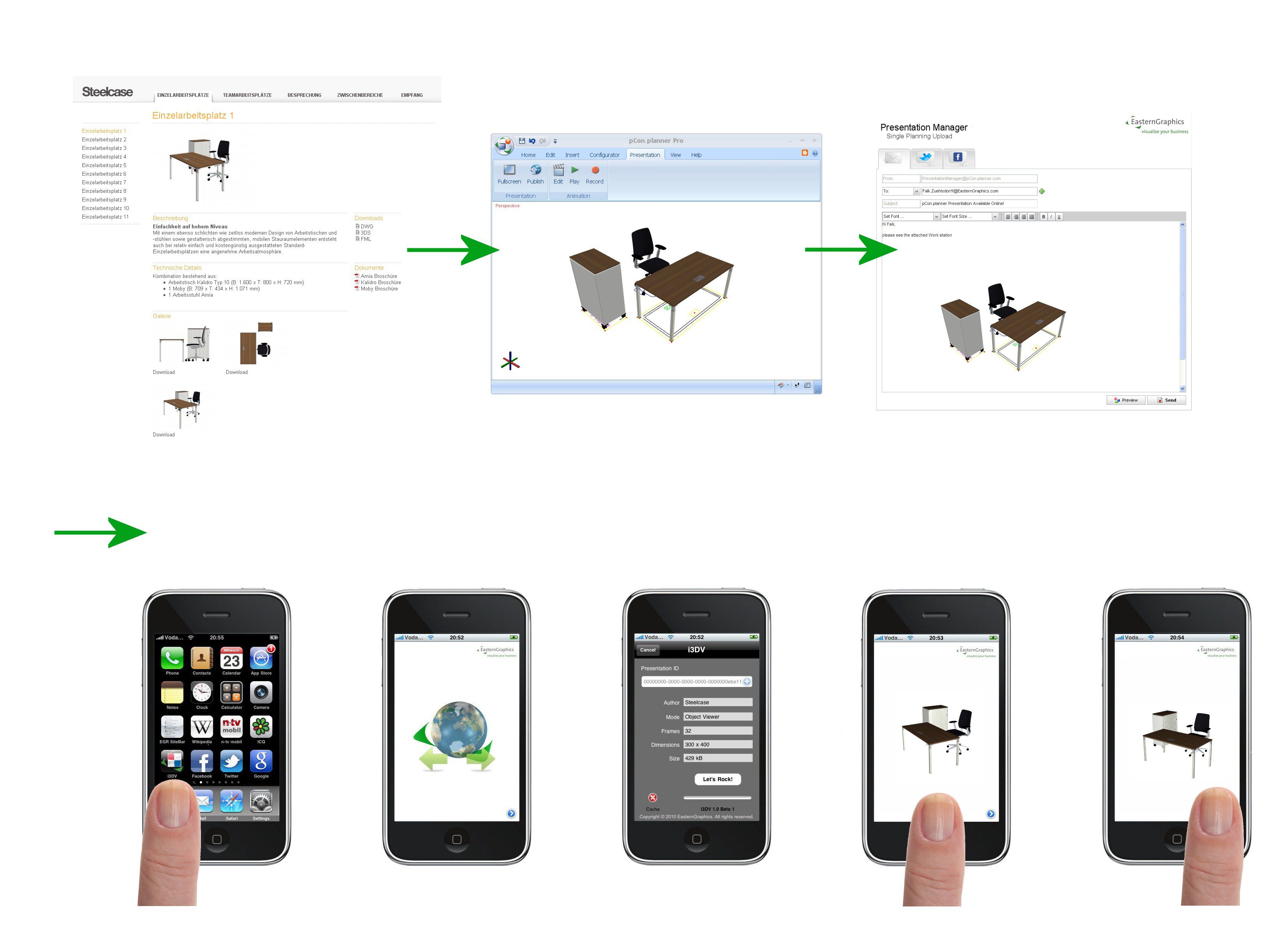 The configuration shown was generated in pCon.planner. The presentation generated was loaded onto an Internet server. The iPhone-App can access this sequence of images using a unique identification. The viewer evaluates the interaction of the user and displays the corresponding image creating the impression of a 3D image.
The iPad and iPhone offer plenty of scope for ideas. There could be tools used to configure future products in the Internet. Applications to support communication between market participants are also a possibility. The iPhone and iPad could revolutionize the presentation of information (planning sessions, images, videos, brochures etc.).
Miscellaneous
A new version of pCon.catalog has been available since June. The appearance has been simplified and structured more clearly. A series of additional functions has also been implemented. For example, users can now save frequently used catalogs as a list of favorites. It is also possible to sort the list of catalogs in various ways and filter them according to a variety of the categories.
pCon.planner has a blog to keep users constantly informed about the latest features and innovations. This blog can be launched directly from pCon.planner. As well as images and videos, there are also regular reports about new developments and release cycles. Facebook accounts are currently under development and also form part of the communication concept.
In future, EasternGraphics will support its customers in France directly. From Autumn 2010, the business in France will be managed by Mr F. Estruch (Fabrice.Estruch@EasternGraphics.com) . As well as providing support for existing customers, the company aims to win greater market share in the country in the medium term.
For some time, EasternGraphics has been investigating the subject of configuration on the Internet . There is already an appropriate solution available for the commercial area. The graphic area is currently under construction and will be presented for the first time at Orgatec. In future, it could be possible to represent 3D objects in a browser even without a plugin. The WebGL standard is currently the subject of intense discussion. If this standard establishes itself, it could provide the platform for representing 3D images in Internet browsers.