INTERNET
Be inspired
A new attraction was added to the pCon.catalog portal in February. An ever growing number of planning ideas that offers much more than a simple image gallery is now located under "Inspirations". The planning solutions created by professional pCon users are presented not just in photo-realistic quality but also in the form of interactive images. These renderings produced using pCon.planner 6 PRO are also enriched with additional information, which can be found in the commercial article data.
Hotspots allow users to find the essential information about the items shown there simply by moving the mouse cursor over the image. Clicking on the article opens a window providing detailed product information as well as a link to the manufacturer's website. Browsing the inspirations is made easy by a variety of search functions and key words. Categories allow users to search specifically for further images from the same author or find inspirations featuring identical articles or function descriptions (e.g. team work, management, lounge etc.).
All the planning solutions can be evaluated using an intuitive star-based scale and comments entered in a text box. When a user finds an image he likes, he can download it directly into his presentations or image galleries in high resolution – every image download is just a mouse click away!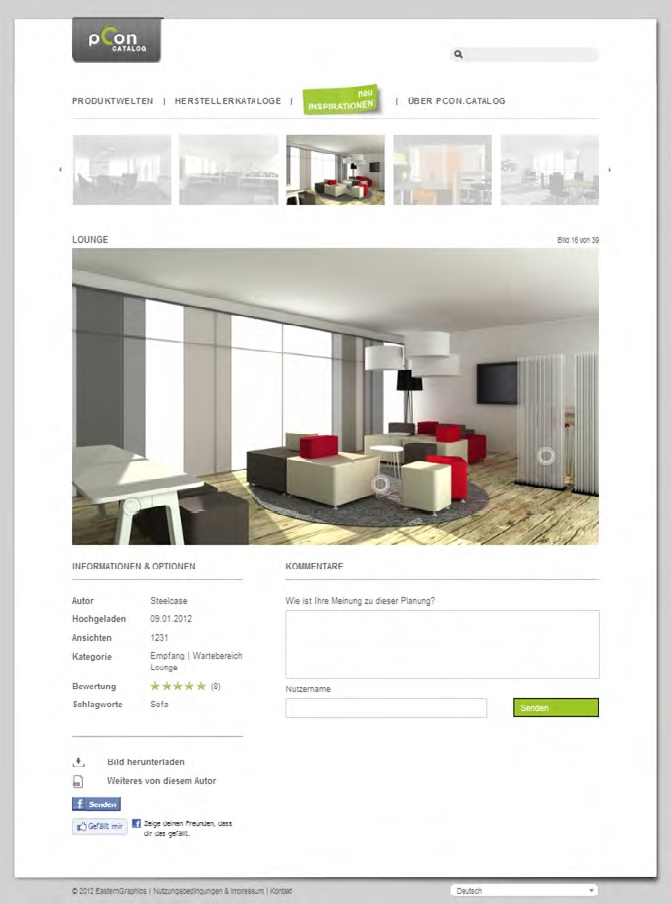 "Inspirations" not only adds an emotional element to the pCon.catalog: for retailers and manufacturers, it offers an innovative platform and "shop window" for their own products and planning services. The quality of the individual products is expressed in aesthetically pleasing and impressive planning solutions. Architects can effortlessly find information about the products shown and access this for their own plans. Moreover, they are able to make contact with both retailers and end users.
This inspiring service can be used in many ways: as an extension to the web catalog, on the customer's website or even in the internet as an interactive image database.

PRODUCT
Quality is no coincidence: Certification and uniform quality standards in pCon.planner 6 seminars
Over recent months, pCon.planner 6 has progressed to become the sector leader in the office furnishings industry and is increasingly establishing itself as a professional solution in other sectors, such as business and warehouse equipment. While the functions of the software are impressive, promotional activities around the product are also expanding – especially those focusing on the quality of work produced using OFML and pCon.planner 6.
One year ago, a three-stage seminar program was launched with the idea of creating a high uniform quality standard in the sector. This was developed by wegscheider office solution gmbh (WOS) and has since been successfully implemented.
As well as investing great energy in running these standardized seminars for specialist retailers and manufacturers, WOS also developed and launched a certification process to ensure the highest standards. Since the end of last year, pCon.planner users have been able to gain certification from WOS (a fee is charged for this service) and thus a measure of their expertise. Several companies have already embarked on this certification process as WOS reports [see WOS News].
Partnerships with universities and vocational colleges are a further element in the introduction of the quality standard. It is important that young people should be introduced to practical topics as early as possible and get used to working with planning software and OFML data.
EasternGraphics provides pCon.planner to educational institutions free of charge giving the architects, interior designers, salespersons etc. of tomorrow the opportunity to use OFML data during their studies. Thanks to the involvement of Professor Lorenz – director and teacher at the Wissenschaftliches Zentrum Dualer Hochschulstudien (Scientific Centre for Dual University Degree Studies) – the partnership with the Technische Hochschule Mittelhessen (Technical University of Central Hesse) is already underway. After detailed discussions with WOS, the university soon decided to adopt the seminar program for pCon.planner 6 in into the curriculum. The seminars are led by speakers from WOS.
This sponsored program and its activities clearly highlight the trend towards internationalization. Our sales partners in Switzerland (weber office solution gmbh) and Denmark (kps-nordic) are also involved in initial discussions with renowned universities and other educational institutions in the sector. After receiving so many expressions of interest, we are confident that pCon. planner 6 will be adopted by a number of educational programs.
Easier ways to create article lists
The article list is a central component of any offer. A tool that helps professional planners to prestructure the articles for their plans and transfer these to the order production process in an immediately usable form is therefore extremely useful.
The recently released pCon.planner PRO 6.4.1 offers users a new folder management system, which focuses on increasing the comfort of precisely these preparatory steps.
The new Folder Manager can be used to individually structure both simple and complex planning projects. This not only increases the overview of the articles used in the plan; it also simplifies subsequent processes. One significant added value of the tool is that the structures created in the Folder Manager can be adopted 1:1 into the article list. The project can therefore be handed over effectively from the planning stage to the offer production department.
Among other features, the two window view ensures that articles are handled efficiently and makes the application simple and convenient to use. Articles can be moved between the two views in any way required. A breadcrumb path in the upper section of each window shows the user in which level of the directory he is currently located. A variety of different icons and font styles help to differentiate individual articles, folders and article groups.
Not only have the graphics been revised and updated, the functionality of the Folder Manager has been process-optimized. For example, articles can be conveniently selected within the drawing and assigned to any order via drag & drop. The integrity of the assembled objects (e.g. of OFML objects with child objects or OFML configurations) remains unaffected by this.
The revised Folder Manager is an efficient sales support tool for professional users. The pre-structured information can continue to be processed directly in pCon.basket and is therefore usable through the entire process.
MISCELLANEOUS
pCon products impress on the big stage
For the first time, OFML and pCon were presented at LogiMAT 2012. This international trade fair for distribution, material and information flows is, among other things, a platform for manufacturers and retailers from the business and warehouse equipment sector.
The response of exhibitors to our products was thoroughly positive. Thanks to our partners' activities, pCon is no longer an unknown quantity in this area and is being discussed as a solution that could be used to cover a number of sectors.
Innovations for Orgatec
pCon.planner 6 will be upgraded with a number of innovations for this year's Orgatec. One highlight is the Material Manager, which makes child's play of changing the properties of a material and generating new materials as required. Users can also import, export and clone textures for multiple use. Changes made are displayed directly in the graphic presentation of the plan.
Central online support system created for pCon.planner
The concept of a central online support system for pCon.planner was developed with the aim of improving application related communication. It brings together a number of different services such as the pCon.planner videos and online help. The intention is to provide users with useful information dealing with every aspect of help and support – online and at a glance. Modern interactive media ensure that all content is presented in an accessible and user-friendly way and also enable the participation of our users; a feature that has been requested in many quarters. The website will also go online with the release of pCon.planner 6.5.
Release 1.7 of pCon.update Da­taClient is available
pCon.update DataClient was recently released in much expanded version featuring a new layout. Automatic installation in DataClient PRO now offers users more options for control and transparency. For example, users can see the status of an installation at any time and cancel or initiate it – this also applies for users without administrator rights. In addition, DataClient Pro was approved for use with standard Windows Server operating systems. Consequently, Data­Client Basic can no longer be run on server operating systems. You can find details about these changes and other news about pCon.update on the DataClients homepage. The content is provided by the respective sales partners.