OUTLOOK 2012
Orgatec anticipated to be the highlight of the year
At Orgatec in Cologne, we will for the first time present an OFML catalog that can be used with nothing more than a web browser and internet access. The presentation will be made in cooperation with a number of our customers and partners. The catalog will function both with desktops and laptops as well as mobile devices, which are gaining ever greater popularity. This platform will provide the basis for new internet services. Fresh horizons and areas of application will open up for the use of OFML data.
We have set ourselves the goal of building a European partner network and believe it is important to serve to people in the places where they work. Direct communication between people remains a significant factor in the success of any business even in the age of the internet. The fact that many of our customers have expanded their international structures reinforces our desire to drive forward the development of our European infrastructure. We plan to start operating in Russia as early as the first half of 2012.
Topics such as acoustics and lighting are growing in importance. The office furniture sector has long been about more than just selling products. Dramatic changes are taking place in the way that work­flows are organized. Manufacturers are adapting and developing special solutions to meet these new challenges. And naturally, software systems from EasternGraphics are no exception. In future, our software will have to be capable of more than simply configuring products. Our goal is to create solutions that provide answers to all the relevant questions. With this in mind, we and our partners will redouble our efforts in the area of acoustics at the start of the new year.
Innovation is the life blood of a company like EasternGraphics. We are extremely grateful to all our customers. Not only do your ideas – drawn from day-to-day use of our products – enrich our daily work: we also deeply appreciate the enormous trust you consistently invest in our work. Without the creativity and support of our customers, we would not be able to develop innovative and market oriented products.
It is in this spirit that we wish you all a happy and successful New Year and look forward to our continuing partnership in 2012.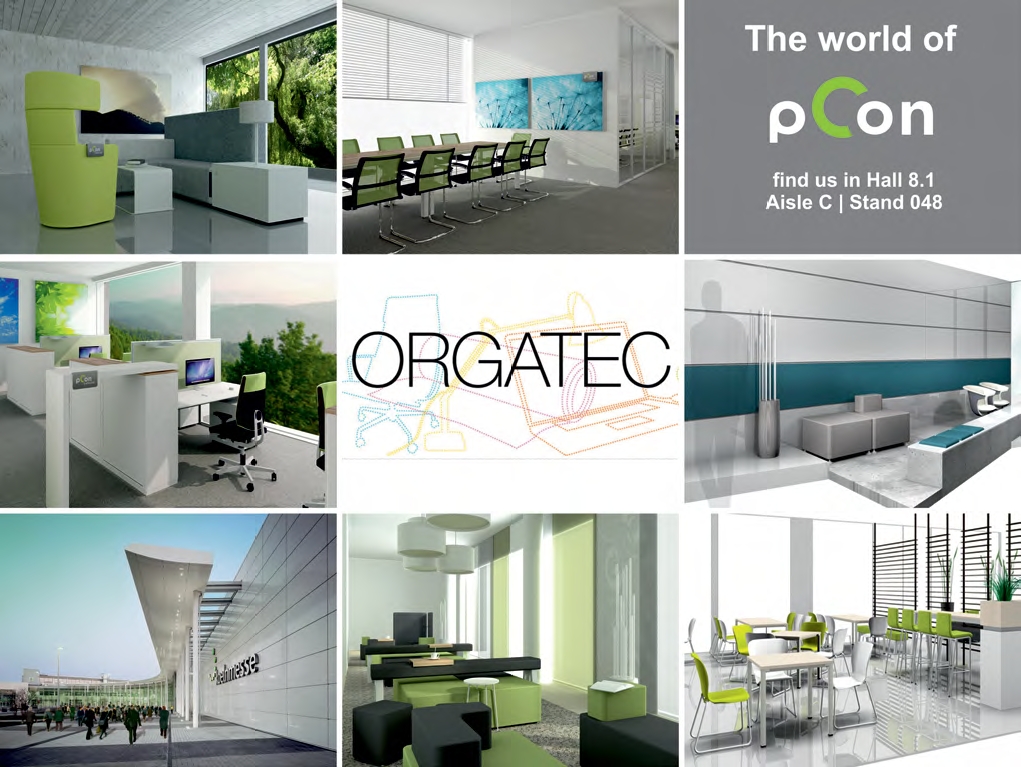 Photo: Koelnmesse
PRODUCTS
Modern catalogs
In most of the online catalogs stored at pCon.catalog, items are organized according to a hierarchical structure. This method of organizing data traces its roots back to the structure of the file system on a computer. However, in practice this rigid system is less than ideal, especially for online catalogs, which aim to meet the needs of widely differing user target groups. There are various aspects and features that can be used to categorize the items in a catalog depending on the user group and type of application. For example, we can assign a visitor chair to a specific product line, a category "chairs" or even the category "conference room". In order to take account of these various facets of an item's use, it will in future be possible to add "tags" for items in the catalog just as you can in many web applications such as Flickr. These tags then act as a filter permitting only the items that correspond to the selected criteria to be displayed. You can also use combinations of tags. However, this concept does not replace the existing hierarchical catalog structure; instead it offers an effective supplementary tool that makes it simpler for users to find the items they are seeking. The advantage becomes particularly clear when the system is compared with printed catalogs. Unlike rigid indexes or tabs, contents here can be organized in a far more dynamic way that reflects the needs of the user.
In Phase 1, a conscious decision has been taken not to introduce a social tagging feature, which would allow users to tag items themselves. The creator of the catalog will be responsible for defi­ning and assigning tags. This will create a solid basis for the system in which synonyms (several tags for one and the same term) and homonyms (one tag with several meanings) can be avoided.
The unstoppable march of mobile devices
The launch of the iPad has created a boom that even the relatively conservative furniture sector can­not ignore. Many manufacturers have therefore started equipping their field service staff with devices of this type. These small, ever-ready assistants have significant advantages over conventional computers. They are easy to operate, offer stunning presentation quality and integrate superbly into communication processes. Mobile devices have proven themselves to be a genuine alternative to laptops in many areas.
Precisely where specific areas of use and applications or solutions will develop in the furniture section is an interesting question. A number of application categories could crystallize from the sales perspective:
■ Applications for supporting sales
■ Customer support applications
Examples of these are turnstone, creative inneneinrichter and C+P.
One important focus is the provision of product information. In order to offer customers the optimum service, it is important that field staff have access to images, prices, texts and product models at all times. The ability to process OFML data is one piece of the puzzle but this alone will not be enough. Routes must be found for processing a wide variety of media in a uniform way and linking them with each other (image databases, information about reference projects, information describing the quality of a product…). Everything required to sell products should be available at the point of sale.
Information services are another area where these devices can be used. It is possible to imagine, e.g. an electronic service which provides information about the processing status of orders. The idea is not new but the fact that mobile devices have now achieved such widespread acceptance could offer an opportunity for such a service to be used much more frequently than in the past.
There could, in future, be tools for mobile devices that are triggered when an order is placed. A member of a company's field service team could configure the product wanted by the customer, place it in the online shopping basket and immediately trigger an order, which is processed electronically and without delay. Even though this concept is currently only appropriate for relatively simple products, the first manufacturers are already working on corresponding solutions.
Market participants in the furniture sector will roll out specific applications for mobile devices. However, despite all the euphoria, the key factors in their success will be the effectiveness with which they are oriented towards clearly defined target groups and their ability to generate tangible benefits. Mobile devices will continue their triumphant march. It is therefore strategically vital to develop modern solutions for the sector, which maximize the opportunities offered by this technology.
MISCELLANEOUS
Multiple price lists
The IT committee of the Association of Office, Seating and Object Furniture (bso) has developed a concept for supporting multiple price lists. In future it will be possible to process several versions of an OFML data set in parallel. The difference between the data sets can be of either a temporal or spatial nature. Products from old and new OFML catalogs as well as items from different market areas can be configured and combined in a single process. The concept is intended to be of assistance during the transitional period between price lists when both old and new prices have to be used in producing quotations. EasternGraphics is currently working on the implementation of the project. The first results are expected by the middle of this year.
pCon.planner training concept
A three-day training program for pCon.planner 6 has been developed in close cooperation with wegscheider office solution gmbh. This is in response to the desire for standardized training material and the need for flexibility in dealing with individual customer requirements. It is not necessary to complete the training course on successive days.
While the focus of the first two days is on communicating basic and more advanced knowledge of planning rooms and furnishings with pCon.planner, the third day is dedicated entirely to visualization and presentation. Participants in the training course learn how to generate photorealistic images and animations themselves. Due to heavy demand, we are also offering a special training course that deals exclusively with high quality rendering. You can find further information about the content of the training course here.
First steps into Russia
In preparation for our entry into the Russian furniture market, two employees of EasternGraphics spent a week in Moscow gathering preliminary information and experience. The results were startling. Almost every company both in the industrial and commercial sectors was already using pCon. Many of our existing customers have already equipped their partners in Russia with software systems from EasternGraphics and are providing support to these customers themselves. Overall, our impressions were very positive and we made a large number of new contacts. This year we will put all our energies into developing an effective infrastructure in Russia. Your contact for the Russian market is Dominik Weiland.
Augmented Reality
"Augmented Reality" seems to be a phrase on everyone's lip at the moment – but how can this impressive concept be of practical application in the furniture sector? Together with a partner, we have developed an idea in which individual products can be virtually projected into a room. The following image shows a video recorded using an iPad. In reality the room is empty but the software on the iPad allows the user to insert a "virtual chair" into the room. This technology allows you to show customers how a specific product would look in the particular environment. This development is still in the research phase but the coupling of an augmented reality component with the product configurator from EasternGraphics could certainly be an interesting prospect in number of application areas.