Products
A new version of pCon.planner available online
The new version of pCon.planner has been available online as a free download since January 13th. pCon.planner far exceeded expectations with over 40,000 downloads last year. The new pCon.planner can be upgraded with a number of additional features such as the following:
Users can comment on planning sessions effective immediately. pCon.planner is intended to improve communication between different groups of users: a sales representative could, for instance, return a project planned by an interior designer along with comments. The interior designer would then be able to edit the comments directly and generate an updated version of the planning session if necessary, thereby allowing sales representatives and planners to exchange information at a higher level of precision.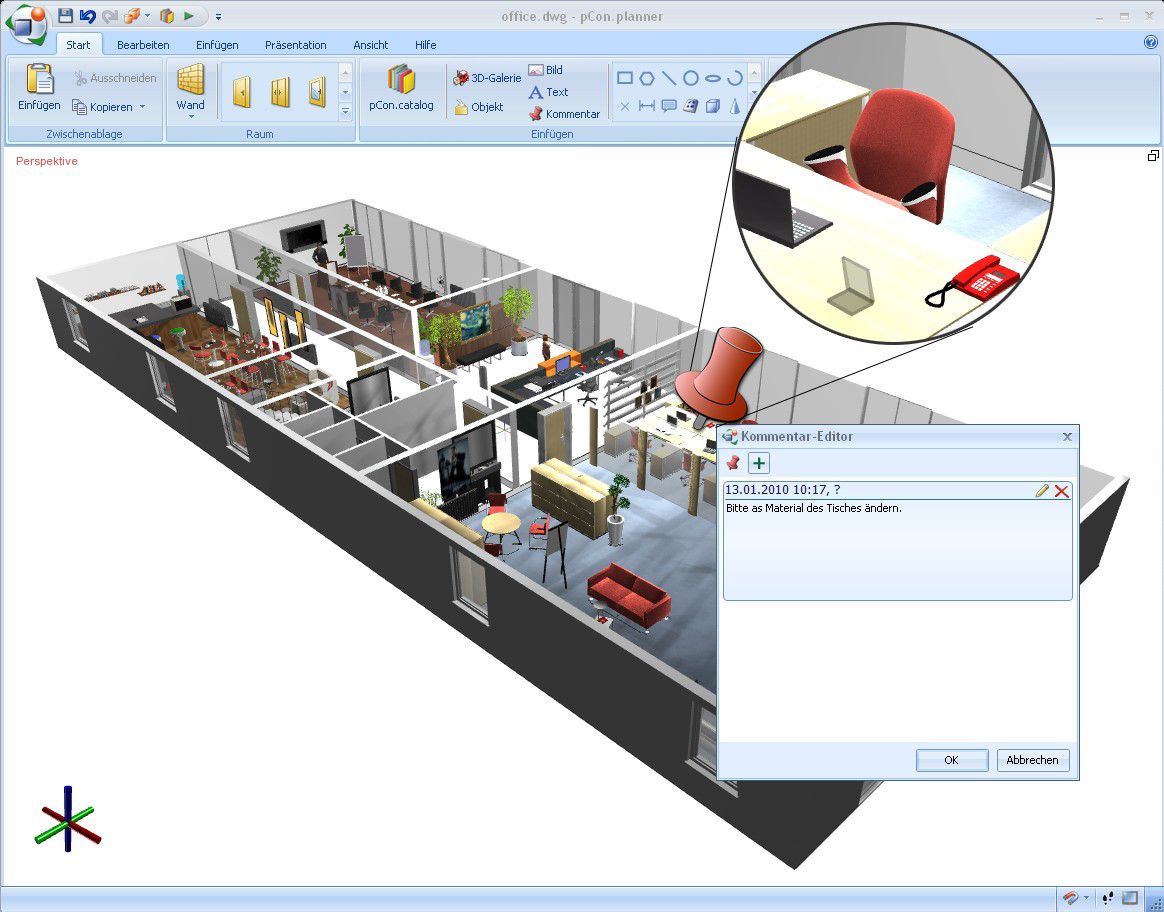 The architecture module contains new objects for doors and windows. New commands for procedures such as reversing symbols improve convenience for users. Graphic card compatibility was also improved, as was performance. Plus, the new pCon.planner contains a simple option for generating video files. Completion of OFML components is anticipated for this quarter, with distribution of a test version planned for February. This version will be launched in stages beginning in March.
The pCon.planner has become a widespread, popular planning system used for applications well beyond those of the office furniture industry. EasternGraphics will do everything in its capacity to live up to this standard to the fullest possible extent.
Strategy
Intense research is the basis for tomorrow's products
EasternGraphics will be continuing to expand cooperation with research and educational institutions. Research and development constitute a key component of maintaining innovative strength, and part of our corporate strategy is to think about tomorrow's products today.
One current research topic involves studying opportunities for presenting virtual products in physical environments. We are working with scientific institutions in a joint project aimed at generating links between images or videos and artificial 3D representations. The project is expected to serve as a starting point for completely new ways of presenting institutions.
The focus of yet another project, this one initiated by the European Union, is on the development of new search technologies: familiar technologies utilize text-based approaches, whereas future systems should also be able to process fuzzy, emotional or medial search parameters. These technologies could be put to use over the next few years in areas such as electronic product catalogues.
Research requires time and energy, not to mention considerable latitude for creative ideas. Even though not every idea finds its way into real applications, research is a vital component of corporate strategy.
Internet
Processing OCD catalogues online
EasternGraphics has completed the initial version of an Internet configurator for commercial applications. The system, which processes OCD data, consists of three components. Once OFML data are installed on an Internet server, the configurator processes these data on the server and the results are displayed using an Internet browser.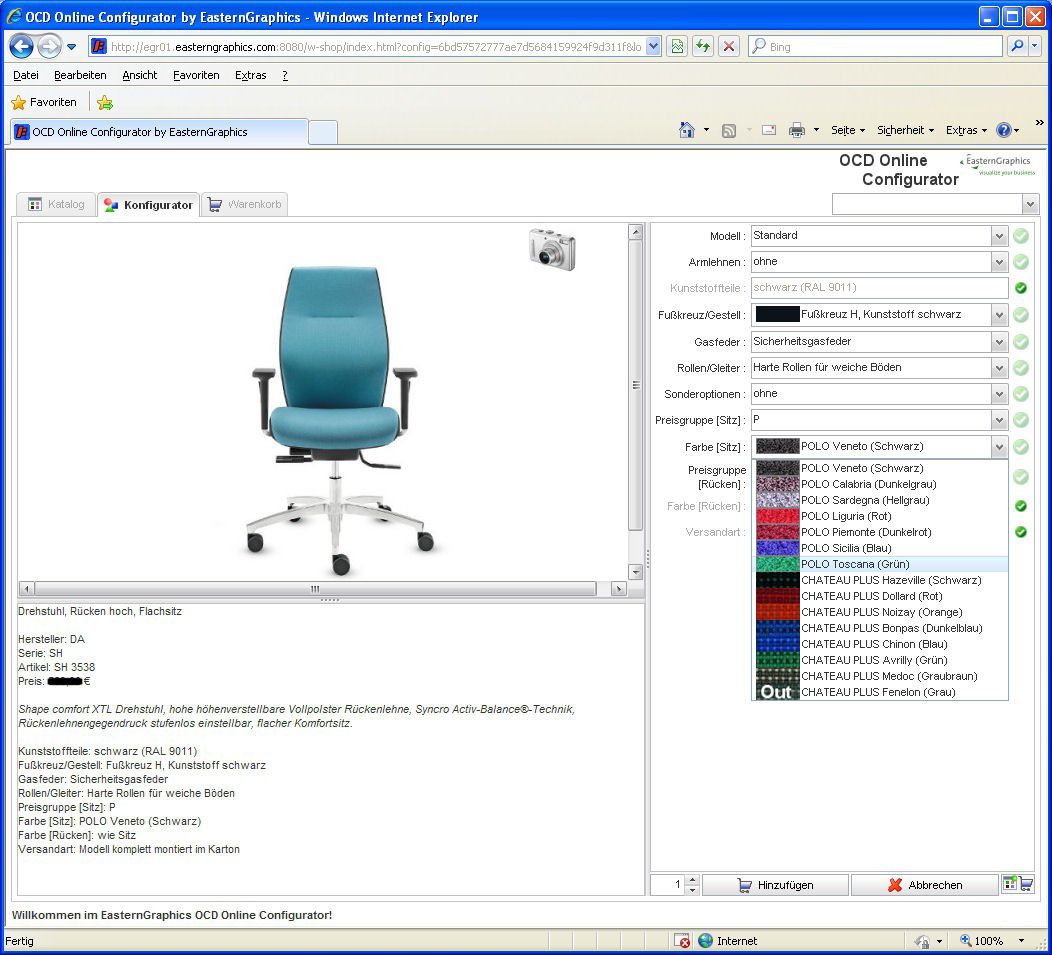 The web configurator utilizes a powerful interface that allows it to be embedded by software systems. The configurator's functions are provided via a web service, making it possible, for instance, to search for a product on the basis of its features and characteristic values and then configure the item. The application then receives and can subsequently display the configuration results.
Because the configurator does not have its own user interface, the leading system can set up integration with the web configurator as needed to meet the needs of the target group in question. Linking different systems in this way produces synergies, as the strengths of OFML can be combined with the features of other software systems.
Setting up client catalogues represents one potential field of application for the web configurator. In this scenario, the vendor would generate OCD data and make a catalogue available on the Internet as an online service. Clients would then use Internet technology to integrate this catalogue into their own IT systems, allowing them to place orders more efficiently and securely.
Miscellaneous
EasternGraphics provides an online catalogue for use at no charge at its pCon.catalog site, where images can be uploaded for a variety of different categories and inserted using a service such as pCon.planner. The catalogue contains pictographs to enhance planning sessions. If feedback for this catalogue is positive, EasternGraphics will pursue a step-by-step process to develop new pictographs and make them available. Ideas and suggestions are always welcome.
EasternGraphics is looking for an innovative rendering system for processing high-quality images. The system, which could potentially be an opensource solution or a commercial product, should be integrated into pCon.planner. Studies will be completed during the first
quarter.
A new installation routine is available for clients who wish to make pCon.planner available for download from their websites in conjunction with an online catalogue. If a user downloads pCon.planner from a client's website, the client's online catalogue will be set up
automatically as a home page and bookmark during installation.
pCon.planner is not intended as a future replacement for CAD solutions. The developers have placed a great deal of emphasis on having pCon.planner and the CAD system work well together. pCon.planner has a greatly expanded range of functions that will allow it to provide planning and presentation support for still more users.